Our consultant will save your time!

Alexey
sales department
+38 (093) 727-19-11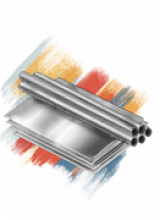 feature
To color includes most metals except iron and its alloys, which form the group of ferrous metals. But if you compare production, non-ferrous metals are less common and their production is much more expensive than iron. However, base metals have extraordinary qualities in comparison with iron. And they could be called «the League of extraordinary gentlemen». The term «nonferrous metal» due to the color of some metals, such as copper gives the alloy a reddish tint. The alloys have improved properties compared with pure metals. They are divided into alloys of heavy metals, such as tungsten, molybdenum, rhenium and alloys of light metals — magnesium, aluminium, titanium etc.
classification
heavy metals: tungsten, molybdenum, Nickel, lead;
light metals: aluminum, magnesium, sodium, potassium, titanium;
precious metals: gold, silver, platinum;
small metals: bismuth, cadmium, cobalt, antimony, mercury;
refractory metals: tungsten, molybdenum, vanadium, tantalum, niobium, manganese, zirconium:
rare earth metals: these include all the lanthanides;
soft: indium, lead, antimony and the whole group of fusible metals;
solid: tungsten, titanium, and the whole group of refractory metals:
scattered: hafnium, indium, germanium, thallium, rhenium and selenium;
radioactive: uranium, radium, plutonium etc.
Relevance
Non-ferrous metals, modern industry uses in alloys, allowing «dosing» of their physical and technological quality. In addition, properties of nonferrous alloys depend on the heat treatment. So the strength is increased after strain-hardening, natural or artificial aging. Nonferrous metals are available all types of machining — rolling, pressing, forging, stamping, cutting, welding. From alloys manufactures castings, bar stock, flat and profile rolling. Refractory metals are used as powders for powder metallurgy products. Powders of such metals as zinc, aluminum relevant to the manufacture of paints and anticorrosive coatings.
BUY AT best PRICE
The cost of non-ferrous metal is based bets on the London stock exchange of nonferrous metals, a wide variety of products in stock, LLC «_" will allow any buyer to make the optimal choice. High quality non-ferrous metal, full compliance with the requirements of the state normative documents and technical conditions for the supply — the main criterion, which adheres to our company in working with clients. OOO «_" is a reliable partner on the market of steel products, and the exact conformity to the declared characteristics of the products, reasonable prices and convenient delivery method is the additional benefit of working with us.