Babbit B83
Our consultant will save your time!

Nicholas
sales department
+38 (050) 369-66-30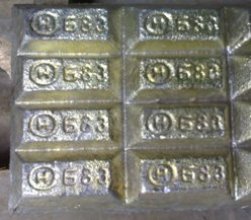 feature
Babbit — fusible alloys-slip made in the form of ingots, usually based on tin with antimony and copper. So in the B83 alloy contains about 83% tin. Lead babbits can also be alloyed with tin, antimony, copper. Babbits are also produced on the basis of zinc and aluminium. Sliding properties depend on inhomogeneous structures. In a soft base of tin or lead is included in solid particles which are used to support the parts. This gives a uniform fit of the parts, minimal friction and wear.
dignity
B83 is considered one of the most popular of tin babbit. He is more plastic, lapped faster compared to the lead alloys, it has excellent performance, it is cheaper B88 alloy with a more complex composition. B83 coefficient of friction without lubrication of 0.28, and with a lubricant — 50 times less. Permissible static load: 400 kgf/cm2, dynamic — 1000 kg/см2сек, drums — 100 kgf/см2сек. Limit speeds to 60 m/sec. Permissible heating temperature up to +110°C. recommended thickness of the fill bolee1 mm.
disadvantages
All babbit have a low fatigue resistance, which also depends on the thickness of the fill. The minimum strength allows them to apply only in the bearings with durable cast iron, steel or bronze body. The duration of operation of mobile nodes depends on the thickness of the babbit layer on a steel liner.
use
B83 is used to fill the bearings and parts; working at high speeds and medium loads safely and strike form,; t° fill 440−460°C; temperature of the beginning of melting 240 °C. B83 reduces wear and improves the sliding bearings turbine bearings, crosshead, and crank bearings ramovic diesel engines, bearings ship shaft; turbopumps, turbochargers, bearings, stationary steam and marine engines with power exceeding 500 kW; for bearings of heavy-duty equipment designed for the high speeds and dynamic loads at t° to 70 °C, with a quiet load pressure up to 20000 kPa with rotation speed ≤ 50 m/s; and at impact loads up to 10,000 kahm/s. B88 indispensable in high-speed bearings, gear train, excentrico cone crushers for coarse crushing.
supply
Get acquainted with the products, clarify its main characteristics, advantages, parameters of use you can on our website. In the company «_" presents an unlimited assortment of which is manufactured according to the strictest technological standards. Carried out both wholesale and retail deliveries.
buy at best price
Huge selection on the website LLC «_" non-ferrous metal, including babbit, designed for wholesale and retail customers. Convenient system of delivery and sincere attention to the customer will make a purchase from us as comfortable as possible, and the compliance of all semi-high standards of quality will be the guarantee of reliable operation of such products on any parts of the industrial complex. A varied range of products, presented on our warehouse make it easy to find the necessary option to bring any of engineering ideas.