30X13
Our consultant will save your time!

Alexander
sales department
+38 (063) 073-44-92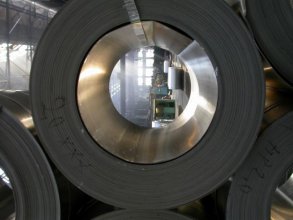 dignity
Stainless steel alloy 30X13 belongs to the category of corrosion-resistant ordinary steels produced on the basis of iron and chromium. The most important qualities of this material include high toughness, elasticity, corrosion resistance. This steel meets the most stringent sanitary-hygienic requirements. These qualities allow the use of semi-finished products made of such raw materials in the food industry, medicine, home appliances manufacture. Thanks to the optimal technological and operational parameters such material actively resists corrosion, action of chlorinated water and salt solutions. The lack of Nickel in the alloy structure reduces the cost of material compared to other stainless steels .
COMPOSITION
Percentage composition according to GOST 5632−72.
Alloy
C
Si
Co
Mn
P
S
Ni
Fe
30X13
0,26−0,35
≤0,8
---
≤0,8
≤0,03
≤0,025
---
basis
30X13 steel is smelted in open electric arc or induction furnaces. Manufacture of semi-finished products normalized following GOST: 1133−71, 18143−72, 18907−73, 25054−81, 5582−75, 5949−75, 4405−75, 14955−77, 2590−2006, 2591−2006, 7417−75, and also THAT: 14−1-2186−77, 14−11−245−88
application
Manufacture of household items, medical instruments, springs, measuring tools. Due to compliance with the most stringent hygiene requirements and low cost, this steel is today one of the leading places in the sector manufacturing of household and medical equipment. In addition, the steel 30X13 is used for the manufacture of bearings, compressor components, operating in a slightly aggressive environment at t up to 450 °C.
buy at best price
Our site offers a wide range of products from steels for special purposes. High quality of products and lack of intermediaries determine the most favorable conditions for their acquisition for solving current production problems. Delivery in the shortest possible time in any region of the country and abroad, compliance with regulatory documentation already gained the trust of regular customers. Due to the relatively low cost and wide model range, semi-finished products brand 30X13 enjoyed continued popularity in all spheres of production.