Our consultant will save your time!

Nicholas
sales department
+38 (050) 369-66-30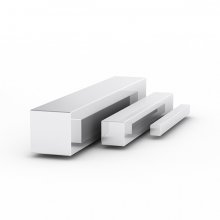 relevance
Stainless square is not the final product metal. He is a semi-finished product, which is rolled, for example, in strip, or structural shapes: beams, channels, special profiles.
production
The basis of stainless steel square serve zhelezomargantsevye steel, consisting of 10−12 components. Depending on the composition and the presence in the alloy of certain alloys, the material acquires a number of useful qualities. In manufacture the following steel grades as: 10H17N13M3T, 10H17N13M2T, 17H18N9, 12H13, 12KH18N9T, 12H18N9, 12H18N10T, 20X13, etc.
Percentage composition according to GOST 5632−72
Alloy
C
Si
Ti
Cr
Mn
P
S
Ni
Fe

20X13

0,16−0,25
≤0,6
---
12−14
≤0,6
≤0,03
≤0,025
≤0,6
basis
Due to the high content of chromium and Nickel, complemented by successfully balanced composition of a number of alloying substances, stainless square has a high physical and mechanical characteristics, heat resistance and excellent resistance to corrosion in aggressive environment. Standard stainless square has a cross section of 20 cm in the case that the cross section of the product's more, it produces marked special order.
BUY AT best PRICE
Quality manufacturer with constant control over the observance of technological discipline and compliance of stainless steel square all parameters of the normative documentation and acceptable cost, determines the relevance of such products for the needs of modern production. The company «_" represents the entire product range of stainless steel square. Sincere attention to the needs of each customer, regardless of order value, delivery in the shortest time, flexible system of discounts to wholesale customers determine the face of our company.