Alloy 08KH18N10T
Our consultant will save your time!

Nicholas
sales department
+38 (050) 369-66-30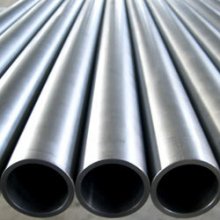 relevance
Advantages chromium-Nickel steels cannot be overestimated. Due to its high operational parameters, technological and operating characteristics of such alloys firmly occupies one of leading positions in the ranking of the most popular materials. Many industries, the production process which is associated with action of harmful factors and aggressive environments, such materials of new generation were able to improve production processes and to ensure long term reliable operation of the whole complex of equipment.
dignity
Austenitic steel 08KH18N10T (ЭИ914) has considerable heat resistance, preserving the stability of the structure under the action of high temperatures. Unique properties due to the balanced chemical composition and special processing technology. High resistance to aggressive environments the gas type (t. n. gas corrosion), the heat resistance and the heat resistance on the background of sufficient ductility has defined the scope of the alloy. Most often the 08KH18N10T steel used in the manufacture of heat exchangers, muffles, parts furnace and chemical equipment operating in the environment of increased aggressiveness.
Percentage composition GOST 5632−72.
| Alloy | C | Mo | Ti | Ni | Cr | Mn | P | S | Si | Fe |
| --- | --- | --- | --- | --- | --- | --- | --- | --- | --- | --- |
| 08KH18N10T | ≤0,08 | --- | 0,7 | 9−11 | 17−19 | ≤2 | ≤0,035 | ≤0,02 | ≤0,8 | basis |
Steel 08KH18N10T is classified as corrosion-resistant heat-resistant. The range of products from this alloy are very numerous — from hot-rolled bars and forged products, rings shaped and not shaped type, as well as wire, sheet, tape, and much more.
application
The scope of application of a material such as austenitic steel 08KH18N10T are quite diverse: industrial chemistry, engineering industry, pulp and paper industry and energy sector. Good weldability allows this steel weldments operating at high temperatures in aggressive environments: heat exchangers, parts furnace and chemical equipment.
buy at best price
Consistently high quality of products from chromium-Nickel steels and a wide range of semi-finished products of various sizes will help you implement any production problems. Reasonable price and a wide assortment of products and make your purchase convenient and comfortable. Full compliance with the requirements of the normative documentation on the product brand 08KH18N10T will ensure the reliability and durability of operation of complex industrial equipment. In the absence of the range of products necessary parameters can be considered tailor-made order on the submitted drawings.