Stainless steel welding wire
Our consultant will save your time!

Alexey
sales department
+38 (093) 727-19-11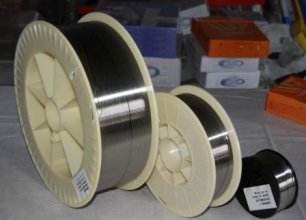 production
The production of high quality welded stainless steel wire is normalized GOST 18143−72, involves the use of high-tech equipment, which speeds up production and improves the quality of the products. The most frequently used steel grade: 10H17N13M3T, 10H17N13M2T, 17H18N9, 12H13, 12KH18N9T, 12H18N9, 12H18N10T, 20X13, 30X13, 40X13. The composition of welding stainless wire must match the material of welded products.
Percentage composition according to GOST 5632−72
Alloy
C
Si
Ti
Cr
Mn
P
S
Ni
Fe

20X13

0,16−0,25
≤0,6
---
12−14
≤0,6
≤0,03
≤0,025
≤0,6
basis
| Alloy | C | Mo | Ti | Ni | Cr | Mn | P | S | Si | Fe |
| --- | --- | --- | --- | --- | --- | --- | --- | --- | --- | --- |
| 10H17N13M3T | ≤0,1 | 3−4 | ≤0,7 | 12−14 | 16−18 | 3−4 | ≤0,035 | ≤0,02 | ≤0,8 | basis |
Alloy
C
Si
Cu
Ti
Mn
P
S
Cr
Fe
12KH18N10T
≤0,12
≤0,8
≤0.3 mm
≤0,8
≤2
≤0,035
≤0,02
17−19
basis
quality
Welded stainless steel wire factory made fully compliant with the state standard 18143−72. The surface of this wire should be smooth, clean, without any shells, bundles, cracks, scale, dirt or rust. By purchasing a wire, should pay attention to linkages of the coils was tight, there was no entanglement.
assortment
Welded stainless steel wire is cold drawn or heat-treated. Can be applied light or assidiously annealing. Wire 12X18H10T made without surface oxides and oxide tint. Precision manufacturing provides the following markings: P — high accuracy, — high N — normal. Plasticity of the wire may be 1-St and 2-nd class.
welding
For welding usually take to cold drawn wire. She has a number of advantages, among them low cost. For welding steels such as grades: 08H18N10, 08CR18NI10TI, 12KH18N9T the most suitable chromium-Nickel cold-drawn wire, which gives a perfect seam with excellent anti-corrosion and strength qualities. Chromium-Nickel cold-drawn wire is often used for welding of tanks, pipelines in various engineering, power engineering, food industry.
BUY AT best PRICE
The price of stainless welding wire depends on the parameters, of alloy grades and additional conditions of delivery. Stainless steel welding wire from the «_" differs reasonable price and high quality, which will allow any buyer to make an order which most fully satisfies its needs. Full conformity with requirements of the state normative documents and technical conditions for the supply — main principle of our company in work with clients. And reasonable prices and convenient delivery method is the additional benefit of working with us.