News
4 December 2013
New technologies for production of rolling rolls in OMZ - SPECIAL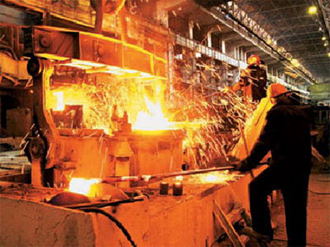 To improve the quality of its products, one of the plants for the production of special-purpose steels, which is part of the OMZ group, has modernized the forging and pressing compartment equipment. The workshop was equipped with a new accelerated cooling unit. This installation is part of the technological process of processing roll products, designed for the organization of rolling of the main line. The complex of such equipment is very versatile and allows processing of rolls made of steels of different grades with different geometric parameters. The unique design of the cooling unit, which divides the originally supplied air and water flow into twelve parts falling into separate collectors, allows the entire system to operate in different modes. Depending on the type and type of products, the installation can perform cooling operations in air, water or combined mode. The presence of not only manual, but also automatic control makes it easier to work with the system and reduce the amount of human resources involved in the operation of machinery.
In the manufacture of rolling rolls, this installation is the last link that ensures the quality of products and the compliance of semi-finished products with the requirements of regulatory documents. According to the management of the plant, the introduction of such equipment has made it possible to raise important technological and operational characteristics of the finished product, and thus significantly expand the sales markets. Moreover, the technical characteristics of the new generation cooling system make it possible to easily cover a wide range of sizes of rollers used both in domestic machine lines and at foreign rolling mills. Particularly noteworthy is the fact that the new equipment is designed and assembled directly by employees of the OMZ corporation.
Work of this level of complexity and responsibility was carried out by workers of SPETSSTALI and other enterprises of this division for the first time, but the first test was held at a high level and pleased the developers with an excellent result. Such modernization will have a positive impact on the prospects of the plant's development and will allow it to look with optimism into the rather distant future, constantly increasing its competitive ability and attracting new customers.
View all news
Our consultant will save your time!

Nicholas
sales department
+38 (050) 369-66-30