News
28 January 2014
That "Uralelectromed", that China: progress on the spot is not worth it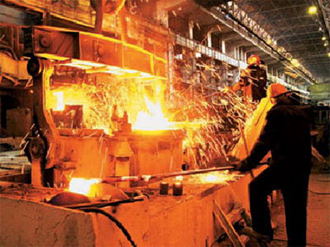 Open Joint Stock Company "Uralelectromed" continues to expand its own innovative activity. In particular, last year more than 200 inventions and rational proposals were introduced into production processes, which resulted in an economic effect of more than 11 million rubles. This indicator is 10% higher than in 2012. The most significant economic effect was obtained by the rationalizers of the copper smelting and chemical and metallurgical shops, introducing new technologies and technical solutions that allowed increasing labor productivity, while reducing the costs of technology.

The chemical-technological shop improved the work of the refining department, applying a new method of processing scrap, which made it possible to accelerate the return to silver technology and increase its recovery. For the copper smelting shop, the scrap processing technique was modernized, as a result of which the formation of slag in the furnaces decreased noticeably, and the copper output into the anodes increased. The copper electrolysis shop now uses an improved method of restoring matrixes made of titanium, thereby increasing the life of the matrices.

At the same time, careful work is being done to protect intellectual property, with each new solution pre-tested in real conditions. After that, the service of the chief engineer produces the necessary expertise, and only after a positive response and subsequent introduction of innovation in the production process, inventors and rationalizers are rewarded. At the moment OJSC Uralelectromed owns 40 patents for inventions.
China is also not on the spot: according to the geological survey of Qinghai Province, geological exploration of the Xiari Hamu field has revealed large deposits of copper, cobalt and nickel. As early as in 2013, the deposit identified copper reserves in the amount of 210 thousand tons, cobalt 40 thousand tons and nickel 580 thousand tons. Such results put Xiari Hamu in second place in terms of reserves among such ore occurrences in China and inject it into the top ten nickel's largest assets in the world.
And SONAMI (the Rock Mining Association), Chile, forecasts to release more than 6 million tons of copper in 2014, while in 2013 the release of metal was 5.77 million tons. The increase in production in 2014 is due to an increase in metal production at private fields.
View all news
Our consultant will save your time!

Vitaliy
sales department
+38 (095) 209-60-73