News
24 February 2014
Copper: production, forecasts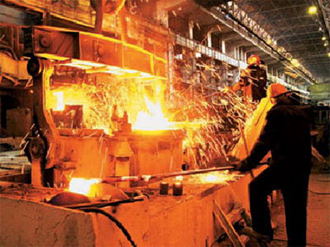 According to data provided by the analysts of the commission from Chile "Cochilco", the cost of copper in 2014 on average will be 3.15 USD per pound, or 6950 USD per ton. According to their forecasts, the average price for copper in 2015 will be 3 USD per pound, or 6,600 USD per ton.
Meanwhile, analysts of the company "Barclays" are very pessimistic about the prospects of red metal, especially after the fall in value to less than 7210 USD per ton. Forecasts of the company's specialists call the upper limit of the cost of copper at 7,120 USD per ton, the more promising is 7040 USD per ton. Experts say that in connection with the publication of not very high indicators of industrial production in China, non-ferrous metals are likely to remain under pressure, and their value will be affected by the weakness of the stock market.
Over the past year, Chile has become a true record holder in the production of copper, according to annual figures, metal production increased to 5.8 million tons, or 6.1%. Only in December, smelting in the country amounted to 525,687 tons, which is 2.4% higher than the APHP, compared to November data, the growth rate was 2.1%. Antofagasta alone produced 721,200 tons of copper last year, raising its own figures for 2012 (709,600 tons). Only in the 4th quarter, its productivity increased by 4.9%, which amounted to 182900 tons, and in 2014 "Antofagasta" plans the amount of metal to be melted within 700000 tons.
Kazakhmys, one of the leading copper mining companies, produced 294 tons of cathode-equivalent metal last year, thus completing the annual plan. The same results were achieved in 2012, amounting to 292.2 thousand tons. Last year, the company produced 39.2 million tonnes of ore, an increase of 4% due to increased volumes of mined ore at Nurkazgan and Konyrat. According to the annual results, the percentage of copper in the ore averaged 0.99%.
Last year, a project was launched at the Bozymchak field for the pre-industrial mining of ore. Start-up and commissioning work started in 2013 will be conducted during the fourth quarter of this year. Despite the fact that, according to Oleg Novachuk, the general manager of Kazakhmys, last year was not easy, the company that reaches the target year in a row thanks to measures aimed at both maintaining the planned volumes and increasing profitability.
View all news
Our consultant will save your time!

Nicholas
sales department
+38 (050) 369-66-30