News
12 February 2014
Ukraine: in February of the new year steel production will decrease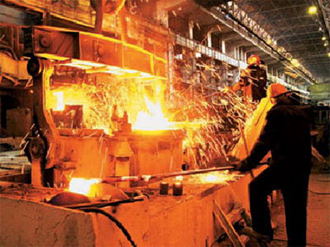 The year 2014 started for Ukraine quite hard: in February of this year, the plans of the Ukrainian enterprises for the manufacture of metal decreased the smelting by 7.8%, which from the expected amount for the first month of this year in the amount of 2.7 million tons decreased to 2.49 According to data provided by Metallurgprom, the production of rolled metal products will decrease by 3.8% (to 2.23 million tonnes), pig iron production will decrease by 6.8% (from 2.5 million tons to 2.33 million tons Tons).
To ensure the production volumes planned for February, the enterprises need 590 thousand tons of sinter, 450 thousand tons of agglomerate, 820 thousand tons of limestone, 360 thousand tons of scrap, 1.11 million tons of metallurgical coke, 1.6 Million tons of concentrate, 630 thousand tons of pellets. The association "Ukrrudprom" says that the enterprises are fully provided with ordered limestone and iron ore raw materials of domestic production. As for imports, metallurgical enterprises are ready to import 130 thousand tons of concentrate, 100 thousand tons of pellets, 100 thousand tons of sinter ore.
Ukrkoks provided its own data, according to which metallurgists will not experience shortage of coke in February - all applications are fully secured. The supply of domestic coal for coking will amount to 1.07 million tons in February 2014, while importing it will require 700,000 tons of coal.
According to data provided by the Ministry of Economy, Trade and Industry of the company "Yieh.Corp", Japan continues to increase the production of stainless steel: the number of hot-rolled products produced in November 2013 increased by 7.5% compared to the same period in 2012, which amounted to 230.097 thousand Tons. However, when compared with the October figures, stainless steel production decreased by 7.9%.
Comparison of data for November 2013 and October 2013 shows that by the end of the year, Japan reduced exports of stainless steel by 1.6 percent. In particular, supplies by Japanese manufacturers of products abroad amounted to 95.722 thousand tons in the period under review, while revenues from sales amounted to 335.813 million USD.
Compared with September figures, data for October 2013 show a decrease in the production of hot-rolled stainless steel by 1 percent, which amounted to 252,319 tons. Nevertheless, according to annual figures, the output of stainless steel grew by a total of 4.1 percent.
View all news
Our consultant will save your time!

Nicholas
sales department
+38 (050) 369-66-30