News
15 April 2014
NLMK: new types of steel - the Russian market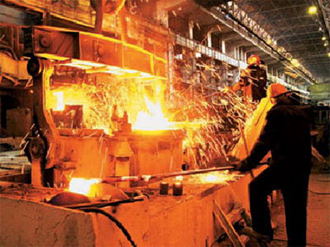 The NLMK Group is introducing new types of premium steel to the Russian markets with increased strength and durability. The thick sheet, made of high-strength construction steel Quend and wear-resistant low-alloy steel Quard, is intended for use in the manufacture of mining and construction equipment. Negotiations are currently under way between NLKM and large engineering companies of Russia regarding the implementation of the developed technology using Quend and Quard steel sheets in the production of mining and construction equipment. Such innovation will give manufacturers of equipment an excellent opportunity to significantly improve the environmental and operational properties of products by reducing the weight of components without reducing the strength characteristics, while increasing the competitiveness with foreign analogs that also use high-strength and wear-resistant steel.
For three years, NLMK has been successfully implementing Quend and Quard sheets in the markets of the CIS countries, as well as in the Far East, North America and Europe. Consumers of NLMK's products are the largest machine-building corporations - Volvo, BYG, Liebherr, Caterpillar, JCB, Metso and Belorussian BELAZ. Quend and Quard steel sheets are manufactured at NLMK Clabecq, Belgium, according to the latest original tempering and tempering technology from the steel slab supplied from Lipetsk, where the NLMK production site is located. The production line for the production of high-quality sheets of the Quend and Quard brands started in 2011, with over 100 million EURO invested in the project.
Quard steel plates with increased wear resistance Quard are available in hardnesses of 400, 450 and 500 HB with a thickness of 4 to 40 mm and a width of 1500 to 3100 mm and can be widely used in the production of mining and construction equipment and other specialized equipment (Dump trucks, bulldozers, mixers, crushing and crushing equipment, etc.). The new brand makes it possible to reduce the weight of the element by 40%, while the volume increases by 5%, and the fuel consumption decreases simultaneously with the cost price by 45%. The Quend brand is available with a tensile strength of 700, 900 and 960 MPa, the thickness of the sheet is 4-50 mm, width - 1500-3100 mm. When used, the weight of the elements is reduced by more than 20%.
View all news
Our consultant will save your time!

Nicholas
sales department
+38 (050) 369-66-30