News
16 April 2014
Steel production is declining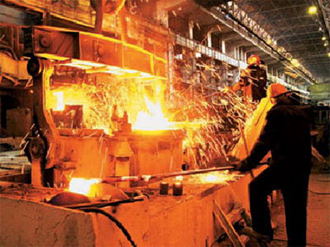 According to Interfax-Ukraine, Krivoy Rog Mining and Metallurgical Complex "ArcelorMittal Krivoy Rog" in the first quarter of this year reduced the production of rolled products to 1.287 million tons, which is 8.8% compared to the same period last year. The data received directly from the enterprise show that steelmaking in particular decreased by 12.6%, which was 1.410 million tons, the production of agglomerate fell by 14.5 tons to 2.220 million tons, respectively, in the smelting of cast iron fell by 11 , 6%, which amounted to 1,242 million tons.
According to the March indicators, the enterprise produced 495,000 tons of steel, 492,000 tons of rolled metal, 434,000 tons of pig iron, and 790000 tons of agglomerate. In addition, in January-March, MMC increased the production of iron ore concentrate to 2.641 million tons - 5.4%, respectively, and in March the plant produced 975,000 tons. The target figures for April are: steel - 570,000 tons, pig iron - 500,000 tons, scrap metal, which is necessary to provide the first two indicators - 70,000 tons.
Earlier, the company provided information on the reduction in production in January-February this year, in particular rolled products by 12.4%, which is 795.6 thousand tons, pig iron by 11.6% - 808.4 thousand tons respectively, steel by 12, 6% - 915.1 thousand tons. Last year, production, on the contrary, was increased compared to 2012: steel by 0.2% (6.430 million tonnes), rolled by 1.2% (5.661 million tonnes). Cast iron melting, however, decreased by 0.1% (5.606 million tons).
The company Evraz with the Claymont plant, the USA, also has certain problems. According to Alexander Frolov, who is the president of the group, Evraz does not plan to resume production at this enterprise. Now the management is considering options for development, which include the closure or sale of Claymont. The work of the steelmaker Claymont was stopped last fall. Referring to the decline in market demand and increased imports. The production of sheet steel at the Claymont plant in 2012 amounted to 348 thousand tons, for the first six months of last year - 171500 tons.
Evraz North America belongs to the Evraz group, uniting eight enterprises located in Canada and the USA, in particular in Portland, Regina, Claymont, Surrey, Camrose, Calgary, Pueblo and Red Dir. In this case, the main management is located in Chicago.

View all news
Our consultant will save your time!

Nicholas
sales department
+38 (050) 369-66-30