News
13 May 2014
Krasnoyarsk aluminum plant: we are 50 years old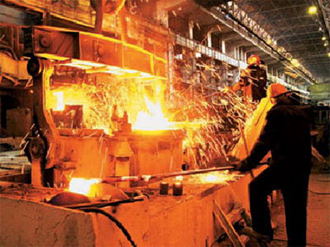 The Krasnoyarsk Aluminum Plant celebrated its 50th anniversary: ​​on April 29 this year, the plant produced a jubilee smelting in honor of the holiday. The ceremony was attended by Lev Kuznetsov, the governor of Krasnoyarsk, deputies of the Legislative Assembly, factory veterans and honorary guests. The jubilee aluminum ingot was melted in the same bath for electrolysis, where half a century ago the first sample of KrAZ metal was produced. In his solemn speech, the governor noted that Krasnoyarsk is experiencing a very clear sense of pride in its own industry, and Krasnoyarsk AZ occupies a key position among the achievements of the region. Its construction began in 1960, and four years later the first metal was cast at the new enterprise, and even now, despite the difficult economic situation all over the world, the plant is in the forefront not only in terms of smelting volumes, but also in product quality, and also At its cost price.
The managing director L.Ragozin did not stint on the plant's praise, reminding that in the half-century of the plant's existence 23 electrolysis buildings were put into production, an anode plant was built, foundries and a workshop producing aluminum of increased purity were put into operation A railway was created. In 2000, Krasnoyarsk AZ entered a new path of development , having become part of UC RUSAL. Since that moment, the company has introduced many new technologies, a dry gas cleaning system, an auto-supply system for alumina. These measures not only improved production processes, but also allowed to reduce atmospheric emissions by 30%.

Today, the percentage of the output of the plant is 27% of the total volume of all aluminum produced in Russia - which is about 3% of the world's light metal. Among the regular consumers of the plant products are enterprises of Japan, the USA, Germany, South Korea, France, Great Britain, Italy and other countries. The plant not only provides employment for 4,500 Krasnoyarsk residents, but also provides jobs for contractors, providing their employees with 5,500 seats.

Last year, Krasnoyarsk AZ for the third time during its existence, smelted 1 million tons of aluminum, of which 30% belonged to high-tech alloys. At present, the plant management plans to increase aluminum smelting, to increase production of new products with increased market demand.

View all news
Our consultant will save your time!

Nicholas
sales department
+38 (050) 369-66-30