News
27 May 2014
Pervouralsky Novotrubny Plant: 80th birthday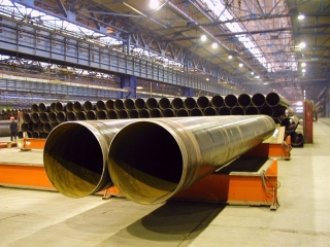 On May 13 this year, the Pervouralsk New Pipe Plant, Russia's largest enterprise in terms of area (which is 4.7 million m2), was 80 years old. It was on May 13, 1934, that the first pipes went out of production in the drawing-room factory. Now, despite its impressive age, the plant looks quite modern - new workshops, upgraded equipment, the Education Center ...
While delivering a welcome speech, Vitaly Sadykov, who is the general director of the Chelyabinsk Tractor Works Group, mentioned the inextricable bonds linking Pervouralsk and metallurgy for nearly three centuries - the first cast iron smelted in the blast furnace of the Vasilyevo-Shaitan enterprise was received in 1732, Received thanks to the First Plant in the Urals for the production of seamless and all-rolled pipes. For many years of operation, the Pervouralsky Novotrubny smog has significantly expanded the range of products, with each year, raising production to new heights. Regardless of the time, the plant did not lose its leader's position - neither during the war, nor during the difficult period of perestroika, nor in our days, when production moved to a new stage of development, white metallurgy. Any achievement depends on people - workers, engineers, builders. And today the descendants of the trumpet dynasties are trained in the Educational Center for modern wisdom, going to the cherished goal - getting the title of white metallurgists.
The modern pipe plant is a real town in the city: there are own sewage treatment plants and hydroelectric facilities, a large railway station. Park, fire station and pumping station, as well as the railway route passing through the city. This is a real storehouse of jobs: every fifth resident of Pervouralsk works at PNTZ.
Despite a considerable age, PNTZ continues to increase its production capacity, producing oil-grade pipes. At the moment, a number of measures are being implemented to strengthen the effective activity of the thermo department. After carrying out all the measures, the productivity of the heat treatment section will increase by 20%, which will make it possible to increase the annual output of pipes with heat treatment from 80 thousand tons to 90-95 thousand.
The program consists of two stages, the first of which will last until the end of this year and is aimed at increasing the speed of production processes. The main feature of the stage is no capital investment. The second stage provides for investment of 20 million rubles. It will start next year and will be directed to an expansion of the isothermal aging section by 15%.
View all news
Our consultant will save your time!

Nicholas
sales department
+38 (050) 369-66-30