News
14 May 2014
The production of aluminum and nickel is declining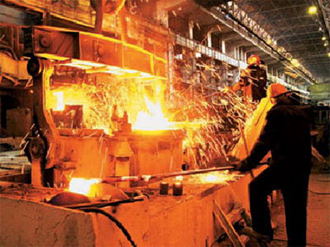 Problems in the Chinese domestic market had a negative impact on the work of Aluminum Corporation of China, forcing the company to temporarily stop work on some of its alumina and aluminum plants. The message of the corporation, which was placed on the Shanghai Stock Exchange, said about the closure of the alumina production with an annual capacity of 800 thousand tons and aluminum with a capacity of 600 thousand tons. Such a decision, according to the company's management, is due to a significant surplus of aluminum products, a decrease in prices for it and increased costs for electricity. Nevertheless, last year Chalco was able to come to some advantage, having received a net profit amounting to 165 million USD, while 2012 was the year of losses - the loss amounted to 1.32 billion USD.
Canadian nickel company "Sherritt International" for the first quarter of this year suffered significant losses amounting to 48.2 million USD, while the same period in 2013 gave 23.1 million USD of net profit. Revenues for the quarter increased to USD 120.9 million, but at the same time, financing costs increased due to the depreciation of the dollar of Canada, and certain costs were incurred for the initial production of cobalt and nickel in the Madagascar project. Due to technical works carried out, production of mixed cobalt and nickel sulfide decreased by 352 tons, but by the end of the 1st quarter production processes had recovered to the full.
At the moment, the metallurgical Chinese company Jinchuan Group has increased the cost of nickel production by 3% compared to the previous month. According to the data provided by "Yieh.Corp.", The price for the delivered goods is 128.3 thousand yuan per ton, which is higher than the previous price by 500 yuan per ton. A little earlier, the company completed construction works at the new enterprise with a production annual capacity of 300 thousand tons of copper. At present, a line for casting and rolling copper wire rods is installed, the level of production capacity planned after completion of construction will reach 450,000 tons of copper wire rod per year. The annual net profit of Jinchuan Group is on average 6,016 billion yuan, which is not surprising, as Jinchuan Group is the leading producer of cobalt and nickel in the country.
View all news
Our consultant will save your time!

Alexander
sales department
+38 (063) 073-44-92