News
19 May 2014
Severstal: development of shaped products continues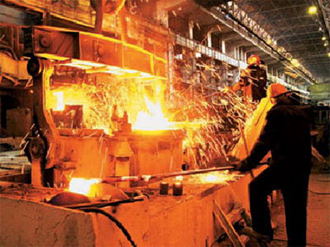 Specialists of the Baltakovo Sorting Plant entering the division of Severstal Russian Steel in conducting hot complex tests of special equipment have mastered new technological skills of shaped rolled sections and corners. Within the framework of the enterprise's output for the planned design capacity and the associated development of the products produced by the mill's rolling mill, Balakovo metallurgists produced batch channel 10P channels and 75 × 75 × 5 mm corners in full compliance with GOST requirements. Produced products are used in construction work when erecting frame structures, as well as in the manufacture of resistant to high loads coatings and large-span ceilings.
In the manufacture of prototype products, as part of the testing of new equipment, representatives of Danieli (Italy), which is the supplier of the rolling mill, were present. The result of the pilot issue was confirmation of the design productivity of the units used in the manufacture of shaped products. As Yury Fedorichev commented on the event, the general director of the enterprise, mastering the technological processes for the manufacture of shaped products, was quite successful. The company plans to develop profiles of long products, a circle in coils and bars of various standard sizes, as well as reinforcement as the most in demand items in construction, which will last until the end of this month. In the future, the plant will produce shaped rolled products at the request of the consumer.
Despite the innovative moments, the first quarter of this year, in terms of revenues, Severstal did not bring any pleasant moments: the net loss of one of the largest producers of the Russian Federation was 100 million USD, while a year ago the profit amounted to 44 million USD. According to the company, this situation is due to a significant exchange rate difference. Compared to the same period last year, revenue for January-March 2014 fell by 9.5%, which amounted to 3 billion USD - this process was affected by a decline in both sales and product prices. In the first quarter, the company was forced to write off 321 million USD of foreign exchange difference, while analysts expected a profit of 152 million USD.
However, the company was able to raise revenue figures for the quarter before payment of mandatory payments, depreciation, depreciation and interest by 24.2%, which in the annual comparison was 534 million USD, while the forecasted figure was 524 million USD.
View all news
Our consultant will save your time!

Nicholas
sales department
+38 (050) 369-66-30