News
24 June 2014
Chelyabinsk plant: in the 1 st quarter profit increased threefold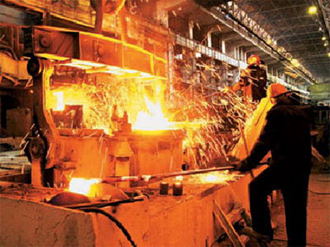 According to data provided by the Chelyabinsk Zinc Plant, the net profit received by the largest Russian producer has increased more than threefold, which for the period from January to March this year amounted to about 295 million RUB. For comparison: for the similar last year's period, the profit of the Chelyabinsk plant was 92 million RUB. Details regarding such a sharp jump are not available at the moment, however, in general terms, the company's representatives assure that such changes are triggered by the growth of the dollar rate and the drop in the cost price of metal smelting. The company's revenue slightly decreased in the period from January to March of the current year - by 1%, which amounted to 3.1 billion RUB. The EBITDA increased by 54%, amounting to 476 million RUB, while profitability on this indicator grew by 15% compared to last year, when the figure was only 10%. As for production, from January to March, zinc smelting increased by 6% compared to the same period last year, reaching 44.503 tons.
Chelyabinsk TZ, which is under the patronage of the Russian Copper Company and the Ural Mining and Metallurgical Company, received a net loss of 208 million RUB last year due to the meteorite disaster in February. The subsidiary of the Chelyabinsk Zinc Plant, Brock Metal Company Limited, has improved the results of the first quarter of this year compared to the same period last year by 15%, selling 6.9 thousand tons of zinc alloys. In general, the Chelyabinsk enterprise accounts for about 2% of the world's production of metal and 60% of the Russian market. Last year, the Chelyabinsk plant increased production of zinc and its alloys by 4% compared to last year's same period, which amounted to 166.357 thousand tons. The implementation in the Russian market amounted to 66% of the total amount of metal produced. In the current year in the plans of the Chelyabinsk plant smelting 165 thousand tons of metal and its alloys.

Meanwhile, the world zinc market continues to experience a deficit - for the period from January to April this year it amounted to 107 thousand tons, as indicated by the data provided by the International Lead and Zinc Study Group. In 2013, on the contrary, in the world market there was an excess of zinc, which is 32 thousand tons. However, the anticipated closure of zinc mines promises a supply crisis.
View all news
Our consultant will save your time!

Alexey
sales department
+38 (093) 727-19-11