News
16 June 2014
Metallurgy expects a crisis of up to 2018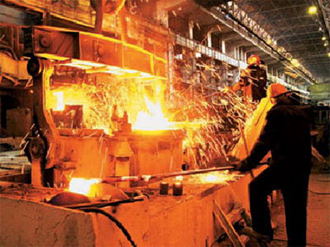 Alexei Mordashov, the owner of Power Machines and Severstal, is confident that the economic crisis that has befallen the world metallurgy can last until 2018. According to A. Mordashov for this period, the average production capacity of the industry is 78%, while the required figure is 85%, and approximately 67% of all metallurgical enterprises operate with negative returns. One of the main reasons for the crisis, according to Mordashov, is high productivity and low consumption. And metallurgists of the Russian Federation are recognized leaders in terms of profitability and level of loading of production capacities.

Today, steel is the most demanded structural material, so that a high percentage of world metal consumption is not surprising. On average, the world steel consumption per capita is 225 kg, if we consider the leading countries, then it is 500-600 kg, in Korea this figure increases to 1000 kg. Such data indicate a high potential for consumption and production. In addition, compared to other structural materials, steel provides 100% recycling. With such assumptions, we can expect an increase in the annual consumption of metal by 3-4%.

In the first three months of this year, the production of steel in 65 countries increased by 2.5% compared to the same period last year, according to the World Steel Association, 405.68 million tons.

To date, Severstal plans to sell its own North American assets. According to A.Mordashov, the company invested a lot of assets and labor in the assets, contributing to their comprehensive development, but if it is possible to obtain a significant income when selling them, which can be used to repay debts, it makes sense to take advantage of this opportunity. There is no special need for the sale of assets, but with a good offer that provides a worthy price, the company will not refuse to consider the transaction. Now Severstal evaluates various ways of development of assets in the US, the possible implementation of them is not the main goal of the company - in case of an insufficiently high price, efforts will focus on improving the enterprises. At the same time, the company's managers really appreciate the undoubted interest of various entrepreneurs, as well as the emerging trend of the merger of the American market.
View all news
Our consultant will save your time!

Nicholas
sales department
+38 (050) 369-66-30