News
21 July 2014
Stainless steel production continues to grow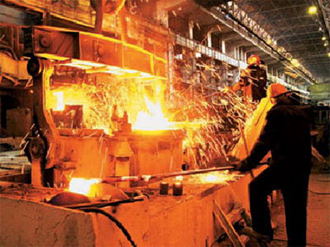 World figures for the production of stainless steel continue to increase - in the first quarter of this year, compared to the same period last year, they increased by 6.8% on the collected statistical data. The received volumes of production for the period from January to March 2014 amounted to 10.22 million tons, the volume of the last year increased by 7.8% compared to 2012, amounting to 38.1 million tons. A little earlier, analysts have suggested that the volume of stainless steel produced in the world market will increase by 3.6% compared to 2013.

For the period from January to June 2014, Rio Tinto, the mining company ranked second among the world leaders, increased the volumes of extracted iron ore by 10% compared to January-June 2013, which was a record 139.5 million tons . At the same time, according to the company's data, the figures for the second quarter relative to the production of iron ore raw materials increased by 11% year-on-year in comparison with the figures for the first quarter, which amounted to 73.1 million tons. The volumes of shipped ore also increased - for the first half of the year, the figures increased by 20%, to a record 142.4 million tons. Over the period from April to June, the figures increased by 23% compared to the same period last year, amounting to 75.7 million tons, and 13% compared to the first quarter of this year. In May 2014, the company's iron ore output reached 290 million tons per year, which is ahead of the planned terms for 2 months. The company also expanded the railway infrastructure based on an increase in the annual ore output to 360 million tons. According to the company in 2014, the planned volumes of shipments are 300 million tons, the volume of extracted raw materials is about 295 million tons.
The production capacity of the Australian mining company Fortescue Metals Grour, which is the third largest in the field, also increased. Compared with the fourth quarter of 2012-2013 fiscal year, shipments of raw materials in April-June of 2014 increased by 58%, which amounted to 37.6 million tons. In general, for the financial period 2013-2014, from July to June, the volume of shipments of iron ore increased by 53%, amounting to 124.2 million tons. This figure is only 2% below the projected volume of 127 million tons. Forecasted volumes of shipment for 2014-2015 fiscal year are 155-160 million tons.
View all news
Our consultant will save your time!

Nicholas
sales department
+38 (050) 369-66-30