News
16 July 2014
The cost of iron ore can increase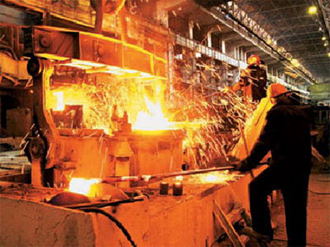 Experts of the Brazilian company Vale have suggested that world demand for iron ore will grow by 34% by 2020 compared to 2012. As for world steel production, these figures will increase by 23% by 2020. Earlier analysts said that the cost of iron ore will increase after a decline in two quarters. At the same time, shipments from Asian producers are declining, and the growth of profitability of local metallurgical industries allows increasing the volumes of smelting. In China, the production of ore due to the low cost of the product has stopped. Speaking about the average cost of material per ton, in 2014, analysts call a mark of 104 USD per ton. In their opinion, in the 4th quarter of this year the cost of raw materials will increase to 100 USD per ton of iron ore.
Meanwhile, the Mongolian-Russian ore mining and processing enterprise Erdenet may not worry about the shortage of material until 2052. According to data provided by the deputy head of the development department of Erdenet, B. Nyuhainambuu, for 35 years of its existence, the production processed about 706.2 million tons of ore, releasing 111.6 thousand tons of molybdenum concentrate and 14.4 million tons of copper. To date, the annual production capacity of the enterprise is 500 thousand tons, but for its preservation it is necessary to develop production, build 2 plants and simultaneously introduce activities aimed at eliminating used mines. Shareholders of Erdenet received dividends in the amount of 1.4 billion USD, tax payments of 2013 amounted to 520.4 billion tugriks.
And the US metallurgists are accused of Russia filling the steel domestic market with inexpensive flat products, which, in their opinion, undermines local prices and violates the trade agreement. The Ministry of Trade reviews the situation on the requirements of the companies "US Steel Corp", "Nucor Corp", "ArcelorMittal USA" and "Steel Dynamics", while the court will decide on antidumping duties on imports of pipe products for the oil and gas industry . In case of liquidation of the agreement, the Russian corporation Severstal will receive antidumping duties of 73.59%, Magnitogorsk and Novolipetsk metallurgical plants, and duties will be raised to 184.59%.
View all news
Our consultant will save your time!

Nicholas
sales department
+38 (050) 369-66-30