News
15 July 2014
Uralelectromed carries out modernization of equipment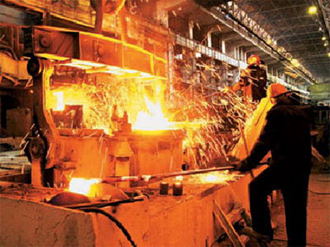 Open Joint Stock Company "Uralelectromed" replaces the equipment in the hot-dip galvanizing shop - at the beginning of this month the technological bath was replaced. Old equipment produced by the German company Pilling was used for 8.5 years, having exhausted all its operational capabilities. During its operation, the volume of galvanized steel structures was about 250 thousand tons. The manufacturer of the new equipment is also a German company, bathtub parameters are 13 × 1.6 × 3.5 meters, weight is 50 tons. The bath has an increased wear resistance at high temperature due to carbon steel containing a high amount of manganese. In addition to replacing obsolete equipment, the drying equipment was repaired, crane equipment was checked, gas appliances replaced, the hoses were replaced with dust and gas purification plants and other work. During the repair with the help of German specialists, a complex zinc pumping operation was performed. For this purpose, Pilling Company provided thermoses with induction heating for storing molten metals, in a quantity of 4 pieces. 320 tons of melt contained at 460 ° C were placed in them. Another 100 tons were placed in barrels and cooled.
Before trial galvanizing, the bath was installed for heating up to 450 ° C in a furnace equipped with 4 burners, after which it was filled with hot zinc. When analyzing the zinc layer, its excellent quality was recognized.
Recall that in May, the process of improving the technological line for the production of copper powders began, the cost of which amounted to about 20 million RUB. Copper powder is obtained by electrolysis, after which the product is subjected to additional processing. The modernization of the line included the renewal of equipment intended for drying, grinding and sifting of raw materials, for which the purchase of a turbine mill from an Italian company was made. It was also envisaged the introduction of an Israeli sealed sieving plant, which allows for the qualitative separation of copper powder into fractions. The process itself is automated, which will make it possible to undoubtedly improve the working conditions of personnel when drying the powder and grinding it.
View all news
Our consultant will save your time!

Alexander
sales department
+38 (063) 073-44-92