News
18 August 2015
Kola MMC continues the implementation of the project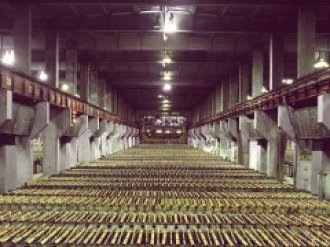 Kola Mining and Metallurgical Company has started implementation of the next stage of the investment strategic project. Its main task is the introduction of a new technology for the production of nickel . Now in the electrolysis shop started the construction of the redistribution "Zinc cleaning". To date, the company's specialists use nickel- nickel anode cleaning technology . This process is one of the main ones. Further, electrolysis is applied to the anodes in order to obtain nickel with the highest degree of purification. The new technology involves the exclusion of nickel anodes from the process. In electro-extraction of nickel, nickel powder will be the raw material for the production of marketable metal. To produce it, tubular furnaces are used in production.
Before the introduction of the technology, the specialists of the company carried out a complex of technical, economic and scientific research for more than one year. Electro-extraction will reduce production costs. Also in the technological process, metal losses will decrease, productivity will increase. Another positive aspect is the strengthening of the ecological effect. It is achieved with a decrease in the emission of pollutants. The use of water for production needs is also decreasing, and the volume of wastewater is also decreasing. Additionally, at the "Tsionkochistka" division, the zinc solution of the NTP solution will be purified. This stage in the production of finished metal gives the maximum percentage of cleanliness.
Currently, the division is working on the construction of foundations and a retaining wall. The frame of the building and the underground emergency drain tank are installed. A zone has been prepared for the erection of the filtration site. Electro-extraction of nickel is one of the projects of Norilsk Nickel. It is implemented within the framework of the company's development strategy. The new technology, according to preliminary calculations, will ensure annual production of nickel at the level of 120,000 tons. The project cost exceeds 9.5 billion rubles.
In addition to the implementation of the new project, Kola MMC continues to modernize its divisions, purchasing new equipment. In January-June 2015, the company purchased 78 units of various technical equipment. Its cost was about 300 million RUB. Kola MMC considers renewal of funds a priority task. It is the new equipment and technology that is the main factor in ensuring production safety and productivity growth.
View all news
Our consultant will save your time!

Alexey
sales department
+38 (093) 727-19-11