News
1 September 2015
Hairpins GOST 22038-76, production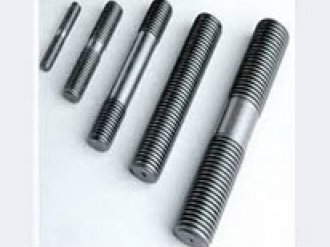 One of the varieties of metric fasteners are studs GOST 22038-76 having a screwed end 2d. This product does not have a head, the threads are located at the ends. Features of a hairpin of this type is to use. The model is designed to connect parts with the presence of through and blind holes. One piece has a hole with a smooth surface. The second is a threaded hole. It is in it that the hairpin is screwed in one of the ends. As an option - use of the specified fasteners in conjunction with 2 nuts. The thread of fasteners in diameter is 2-48 mm. The tolerance is 6g. The manufacturing accuracy class is B. The marking is located on the end of the nut part of the product.
Hairpins GOST 22038-76 look quite simple. However, the specificity of the fastening, produced with the help of the element, requires its special design. At a hairpin GOST 22038-76 unlike other standards threaded parts of different length. In addition, a chamfer is taken on each side. Hairpins made under this scheme are made in the following variations:
- For screwing under the nut into the part;
- With a large carving;
- With fine carvings.
Usually, these types of studs are used for fastening parts made of light metal. However, it is possible to use them for steel elements. Attachments with the use of studs GOST 22038-76 are found in engineering, construction. Used studs and when assembling metal structures. The main function is the centering fixture, which ensures accurate and strong fixation.
Studs GOST 22038-76 are manufactured using carbon alloyed steels, corrosion-resistant steels. Alloys of non-ferrous metals - copper , bronze , brass , aluminum-containing compounds are also used. Additional surface protection is provided by special zinc coatings. The customer's option is also possible. In the mass production of studs, the method of cold or hot deformation is used. His choice depends on the necessary final properties of the product. Small batches can be made on thread-rolling equipment, lathes. For billets is taken long products with certain characteristics. To obtain products that meet all the requirements of GOST, there should be no hint of corrosion on the surface. The texture of the material is light, smooth. Special requirements concern the thread configuration. The dents and burrs should not interfere with the screwing. Control - visual and metallographic.
View all news
Our consultant will save your time!

Nicholas
sales department
+38 (050) 369-66-30