News
1 September 2015
VSMPO-Avisma began deliveries for Airbus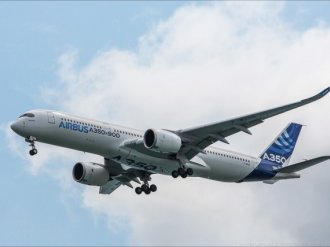 The Russian corporation VSMPO-Avisma began deliveries of new parts for the airline Airbus. The machined part is designed for manufacturing the chassis of the aircraft "A350-900". The agreement on mechanical processing for the project "A350-900" was reached in 2014. It took only a year - and the first sample with mechanical semi-finished processing went to the customer. This is the largest titanium structural part supplied by the Russian concern Airbus. Such machined punching also have an increased added value .
Mikhail Voevodin, general director of VSMPO-Avisma, considers the issue of the first-born as a proof of successful cooperation. The first detail of titanium for the "A350-900" is just the beginning. Within the framework of this project, the activities of the Russian company will not be limited to the supply of punching and rolled products with initial machining. M. Voevodin counts on expanding the functions of VSMPO-Avisma to the production of finished products. The vice president of procurement of Airbus Olivier Coquille is confident in further fruitful cooperation. According to him, over the last decade, the volumes of joint business have significantly expanded. Today Avisma Corporation is involved in all new Airbus projects. They include the programs A350 XWB and A320neo. VSMPO-Avisma provides support in the development of innovative technologies. They are usually aimed at reducing costs and increasing production rates. Another joint agreement concerns the use of titanium powder, used for 3D printing in the aircraft building sector.
For the Airbus company, the Russian corporation is the main supplier of titanium . VSMPO-Avisma provides about 50% of its needs for titanium products. Joint work of corporations started in the 90's. The first agreements stipulated the supply of raw products. With the passage of time, the range of products delivered has significantly expanded. It included processed parts with increased added value . To date, the Russian corporation has been supplying titanium stamping for the entire Airbus range. This includes the A380, A350 XWB, A320neo. Titanium , supplied by Avisma, is used to make the most important details. As a rule, they have the greatest load.
View all news
Our consultant will save your time!

Alexander
sales department
+38 (063) 073-44-92