News
1 October 2015
Indian metallurgists hope for state support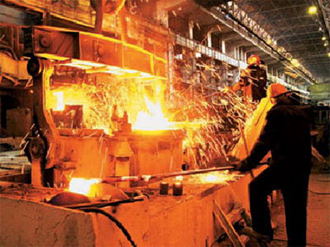 September 14, the Ministry of Finance of India introduced a 20% anti-dumping duty on hot rolled coils. The term of protective fees is 200 days. Representatives of the national metallurgical sector believe that these measures are insufficient. In their opinion, additional government support is required. The producers' wishes affect not only the restriction of imports. It is also about providing more favorable conditions for the industry. The need for anti-dumping duties was discussed by manufacturers of heavy-gauge steel, wire rod, sheet-coated rolled products and cold-rolled coils. It is these types of goods that come in - mainly from the PRC - at a low price. The difference between the cost of imports and national production is 15-20%. Indian producers are concerned about possible supplies of cold-rolled coils with a lower value .
Representatives of the Ministry of Commerce of India say that protective duties have a number of shortcomings. The advantages are the speed and ease of administration. For this, there is enough data on a sharp jump in the volume of imports. At the same time, the level of duties can not much exceed 20%. Effective protective duties can last for 3 years. In addition, after a year and a half, their revision is possible. And the rate should decrease annually. Because some experts vote for anti-dumping suits. The fact of dumping from Japan and Korea, in their opinion, is proved quite easily. Manufacturers of these countries sell imported products at a price lower than in their own domestic markets.
However, there are cons and suits. Anti-dumping investigations can last up to a year. In this case, the damage caused to national producers, it is necessary to prove. Despite the shortcomings, the likelihood of suits against the metallurgists of the PRC, Korea, China and Japan is quite high. The reaction of Indian metallurgists to imposed duties is ambiguous. After their establishment, the market value for hot-rolled coils increased. It is not excluded that in the first days of October there will be another jump in prices. Consumers are not too happy with the situation. In their opinion, the rise in price reduces their competitiveness. Some analysts believe that losses occur not only from the growth of imported volumes. A small influence is exerted by small domestic demand.
View all news
Our consultant will save your time!

Artyom
sales department
+7 (905) 270-13-45