News
7 October 2015
"Red October" is ready to demonstrate novelties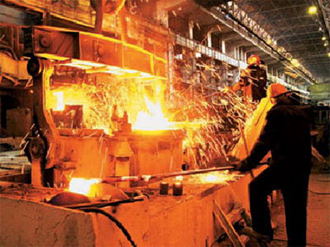 In November, VDNKh will host the 21st International Industrial Exhibition "Metal-Expo 2015". For metallurgical companies and manufacturers of related products, this is the most significant event. Combine "Red October" is a regular participant of the exhibition. This time the plant is ready to demonstrate new opportunities. The audience will be presented with an updated range of products produced by the company. However, such a chance is given to all producers, domestic and foreign. Within the framework of the event, it will be possible to see unique products from non-ferrous metals, stainless , special steels, ferroalloys . At the Metal-Expo, participants win new customers, strengthen existing ties. Over 600 companies will take part in the event.
Representatives of the "Red October" are actively preparing for the exhibition. The emphasis is on stainless steel , high-alloy, demonstrating excellent quality. But 2015 promises to be a year of discovery. The Metallurgical Combine is ready to present a whole list of novelties. Among them is a cold- rolled stainless sheet . The production started at "Red October" from June 2015. Another innovation is rolling with a thermal improvement. It is produced in the complex BOSIO since July. Specialists are preparing to share news about the development of the production of tube billets of chromium stainless grades 15Х25Т, Cr13, 08Х14МФ. Do not ignore and smelting steel electrotechnical brand 10860.
However, even without the results of the exhibition, one can draw conclusions about the high quality of the enterprise's products. An extra trump card is an audit that was held at the end of September under the supervision of TÜV SÜD Management Service GmbH experts. The experts checked compliance with the requirements of ISO 9001: 2008 and ISO 14001: 2004. After analyzing the state of the objects of the "Red October" auditors summed up. The plant has the required capabilities and resources to ensure the quality of orders. All parameters meet the requirements of the international standard ISO 9001: 2008. So the profitability of the Volgograd enterprise does not cause doubts.
According to experts, "Red October" is constantly working in the mode of internal audit. A continuous evaluation of technological processes is carried out. The indicators of the decrease in the marriage are estimated. Environmental management does not stand aside either. The control over storage of a waste is conducted. Observations of the environment are made.
View all news
Our consultant will save your time!

Alexey
sales department
+38 (093) 727-19-11