News
12 October 2015
Copper production is growing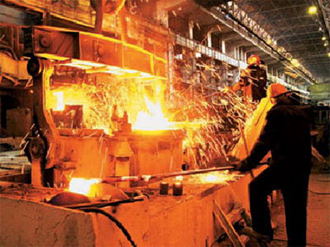 International Copper Study Group specialists announced a new forecast for copper production in 2015. The global extraction of copper-bearing ore in recalculation for pure metal will amount to 18.751 million tons. Compared to 2014, the growth will be 1.2%. Next year, the figures will increase by 4.2% to 19.542 million tons. World copper production in 2015 will increase by 0.8%, amounting to 22.669 million tons. Next year, growth will reach 2.3% to 23.183 million tons. As for consumption, in 2015 there is a decrease of 1.2% to 22.628 million tonnes. In 2016, the demand for copper is expected to increase by 3%, amounting to 23.31 million tons. If forecasts of analysts are justified, in 2015 we can expect a surplus of copper . It will reach 41,000 tons. In 2016, experts expect a deficit of red metal at a level of 127,000 tons.

Earlier, representatives of Credit Suisse revised the outlook for the average copper price downward. In 2015, the adjustment will be 7% to the level of 5673 USD / ton. The estimate for January-March 2016 also deteriorated by 17%, amounting to USD 5,000 / ton. The minimum level of quotations is expected in the fourth quarter of next year. The average cost of copper in this period is expected to be up to 4600 USD / ton. According to analysts of the bank, copper output will exceed consumption in 2015 by 97,000 tons. In 2016, the excess will be 298,000 tons, in 2017 - 372,000 tons. A deficit of 103,000 tons can be expected only in 2018. Also, experts are negative about the forecast of the cost of lead and zinc . An influential factor in the calculations is the weak demand from the PRC. Consumption of red metal in China this year relative to 2014 will increase by 5.7%. According to experts Antaike demand will reach 9.22 million tons. It is assumed that the main customers will be manufacturers of air conditioners and generators. This sector will account for about 65% of the total consumption of red metal in China.
In 2016, Aurubis representatives set a premium to the cost of copper cathode at a rate of 92 USD / ton. In 2015, the premium was 110 USD / ton. The lower level was observed in 2013 - 86 USD / ton. In Europe, Aurubis is the leader in determining the approximate base cost of copper . This position takes the manufacturer from 2012. The company can compete only Chilean Codelco. By the way, Codelco has not yet offered its own bonuses for 2016.
View all news
Our consultant will save your time!

Alexander
sales department
+38 (063) 073-44-92