News
28 October 2015
Titanium-magnesium plant in Zaporozhye implements an investment program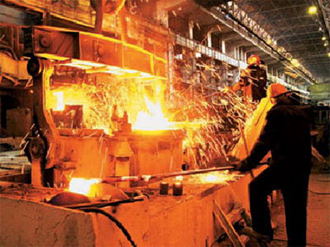 The Ukrainian titanium and magnesium plant in Zaporozhye started to implement the investment project. A large-scale investment program involves the withdrawal of titanium products of the plant to the market of space products. The company's investments reached 19.5 million hryvnia. The project provides for the construction of a titanium sponge averaging unit. The plant is designed to automate the process of mixing sponge titanium . When processing batches of raw materials of different fractions, the homogeneity of the product composition increases. The construction of the installation is a step aimed at improving the quality of the finished product. Another plus is the increase in the range of products. This will expand the range of consumers. Increasing the technical level will allow the company to produce products used in the aerospace sector.
The installation is scheduled for the current year. Zaporozhye combine will have the opportunity to process a crushed titanium sponge. The final implementation of the project is planned before the end of 2015. In the same period, the upgraded equipment should go into operating mode. Development of the project ended in May this year. Construction work started in June 2015. The project was based on the program of the Ust-Kamenogorsk titanium-magnesium plant. The development and production of a special averager was carried out by PJSC "Betonmash". USTG-6000A is a mixing automated drum. Its main function is mechanical stirring of spongy crushed titanium . The drum is made of stainless steel and equipped with blades for mixing.
In addition to mixing, the unit provides automatic sampling. In this way, quality control is carried out. Plus, the products are packaged in process containers. To date, the project has approached the final stage. Technological platforms have already been built and installed. Along with the amplifier, 90% of the basic equipment has been prepared. November is scheduled for the launch and debugging of the installation. Also in November, its introduction into the production chain will begin. Experts Group DF calculated that the world market consumes 160,000-170000 tons of titanium sponge a year. Zaporozhye combine is the only titanium producer in Ukraine. In 2014, the production volumes of spongy titanium reached 7215.4 tons. Titanium slag produced 32640,917 tons.
View all news
Our consultant will save your time!

Nicholas
sales department
+38 (050) 369-66-30