News
17 November 2015
MEPS promises to increase the production of stainless steel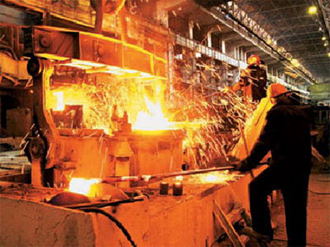 The specialists of the engineering company MEPS in Britain say about the growth of stainless steel production in 2016. In their opinion, the volume of output will reach 43 million tons. In 2015, the smelting of stainless steel has already set a record - 42.1 million tons. At the same time, experts do not hide disappointment, estimating the volume of global metal production for the II quarter. Especially acute MEPS reacts to the reduction of capacity in China, Japan and the United States. Over the 6-month period, the reduction was 0.75%. In the second half of the year MEPS predicts an increase in the production of stainless steel . It will be observed in all corners of the world, amounting to a total of 2.8%. Annual output growth is expected from South Korea and the United States. The EU, Japan and Taiwan will reduce last year's results.
The melting of stainless steel in the PRC is expected to increase. It will be 2% by the end of this year. In 2014, production growth was 14.3%. As for the share of Chinese goods in the global market, it will increase by 52.5%. In 2016, the increase in the output of stainless steel in China will be 1.8-2%. MEPS analysts estimated that the weakest demand during the summer period was observed in the EU. In the fourth quarter there is no special growth in indicators. Output, on the contrary, will decrease by 1.6%, amounting to 7,125 million tons. A slight improvement is expected in 2016. According to preliminary estimates, it will be 15,000 tons. In the United States, demand is gradually recovering. The output of stainless steel is expected to reach 2.4 million tons by the end of 2015. This figure is 0.5% higher than the results of 2014. In 2016 representatives of MEPS expect to increase output by 2.1%. In Japan, stainless steel smelting will drop by 6.3% this year. The volume of steel produced will amount to 3.125 million tons. In 2016 it is possible to increase production to the level of 100,000 tons. In South Korea, analysts expect an increase in production volumes at 7.8%. In 2016, growth will reach 1.1%. In Taiwan this year, the decline is expected at the level of 0.7%. But in 2016, the expected growth in production will reach 4.5%.
In general, considering the market of stainless steel, we can talk about stagnation. Purchases at the end of the summer season did not increase. Demand for products remains weak. At the same time, the proposal continues to increase. The cost of stainless products has been steadily declining.
View all news
Our consultant will save your time!

Alexey
sales department
+38 (093) 727-19-11