News
24 November 2015
Consumption in China of steel products continues to decline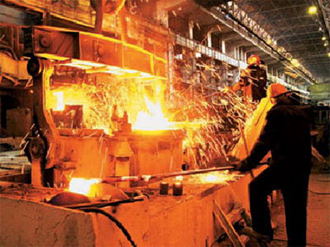 The National Metallurgical Association of China CISA provided data on the consumption of steel products. Over a 10-month period, the volume reached 590.47 million tons. Relative to the same period last year, the decline was 5.7%. For January-September CISA registered a similar rate of decline. The Chinese steel sector is experiencing considerable difficulties. Demand in the domestic market invariably creeps down. However, the production volumes in the PRC decrease very slowly. As a result - the reduction in the cost of production and its overabundance. Wang Yinchen, vice-secretary general of CISA, believes that the balance of the market is possible. But only if uncompetitive production ceases to exist. These include companies that produce goods that are not in demand.
In annual terms, the volume of capacities not used in the metallurgical sector of China is 400 million tons. Such data is provided by Western experts. Zhang Dianbo, who is vice-president of Baosteel, talks about several other indicators. On average, capacity utilization in the sector by the beginning of November reached 69.3%. Previously, the Ministry of Industry of China anticipated an increase to 80%. Such results were to be achieved against the background of the stoppage of surplus enterprises. At the same time, it is not necessary to count on a speedy result.
Complexities are noted not only for metallurgists. In the sector of metallurgical equipment is also not all smooth. Over the past decade, China has built a well-developed machine-building industry. The number of enterprises entering into it has fully mastered Western advanced technologies. To date, one of the problems of equipment suppliers is limited sales. The reason is a sharp reduction in the number of new projects. Leading same companies often enter into agreements with Western machine builders. At the exhibition "Metal-Expo 2015", China represented 51 companies. Excluding Russia, this indicator is higher than in any other country. And almost every company from China was a supplier of materials and equipment for the metallurgical sector.
In addition, the volume of Chinese exports is also declining. In October 2015, the indicator fell by 6.9% compared to last year's same period. A negative result is observed for the fourth month in a row.
View all news
Our consultant will save your time!

Alexey
sales department
+38 (093) 727-19-11