News
17 November 2015
Steel production in China is declining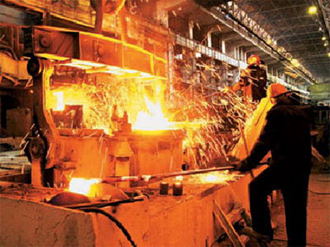 The Chinese National Bureau of Statistics announced October data. For a month, the production of steel reached 66.12 million tons. This indicator compared to October 2014 is lower by 3.1%. Over the 10-month period, the output reached 675.1 million tons. Compared to last year's results, the decrease was 2.2%. In October, both Chinese and foreign sources often pointed to the shutdown of enterprises. The decrease in the loading level of production capacities was also mentioned. Influencing factors indicated the low cost of hire. In reality, the results were not so impressive. In China, there continues to be a high level of overproduction of steel goods. The Chinese economy is far from any signs of stabilization.
The volume of Chinese exports in October compared to the same period last year decreased by 6.9%. A negative result is observed for the fourth consecutive month. The rate of production growth in October fell to the lowest level since 2008. Not the best result is shown by investments, having reached a minimum since 2000. It is likely that the reduction in steel consumption in China will not stop there. In September, steel exports reached another record - 11.25 million tons. In comparison with it, the October export volumes fell significantly. Abroad, manufacturers sent only 9.02 million tons of steel products. Since June 2015, this indicator is minimal. However, for the 10-month period, external supplies exceeded the level of 92.1 million tons. This result practically corresponds to the volume of exports for the whole last year. It remains to wait for the next restrictions on imported rental in a number of countries. And first of all such measures will be aimed at Chinese products.
Experts are increasingly talking about the coming conclusions of excess production capacity. Such constructions are based on growing losses of Chinese manufacturers. Signs of the impending crisis peak are evident. One of the enterprises of the state trader "Sinosteel" allowed a technical default. The head of Baosteel assumes a 20% reduction in steel output due to the restructuring of the industry. The cost of Chinese products is falling all the lower. The price of hot-rolled coils fell below 270 USD / ton FOB. Some suppliers ship the goods for a price below 250 USD / ton FOB. True, the cost of iron ore, too, does not stand still, continuing to decline. So, Chinese manufacturers can once again drop rental prices.
View all news
Our consultant will save your time!

Nicholas
sales department
+38 (050) 369-66-30