News
7 December 2015
KAZ Minerals has received the first cathode copper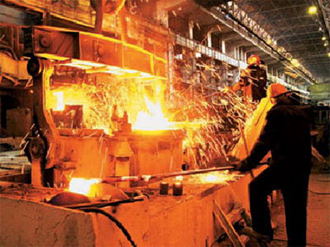 The group of KAZ Minerals has finished the production of the starting batch of copper cathode. It was obtained from the oxidized raw materials of the Aktogay deposit in Kazakhstan. Aktogay is considered one of the world's undeveloped major deposits. Presumably his life will reach half a century. The first batch of Aktogay copper was produced quite quickly. The Aktogay project was developed and approved in 2012. Construction work started in early 2013. The first batch of oxidized ore for heap leaching came in June this year. Then there were the stages of irrigation of the dumps, extraction, electrolysis. It is assumed that over a 6-month period the complex will be able to reach an annual output of 15,000 tons of copper cathode. The production and processing of oxidized Actogay raw materials will be carried out during the 11-year period.
Construction work started at the concentrator processing sulphide raw materials follows the schedule. Operation of the factory will begin in 2017. For this period, the start of production of copper concentrate from sulphide raw materials is scheduled. The output of sulphide ore in the first decade will be 90,000 tons of cathode copper per year. From ore oxidized annually, it is planned to obtain 15,000 tons of copper cathode.
Aktogay and Bozshakol, members of the KAZ Minerals Group, are open type mines. On the schedule of operating costs, they will enter I and IIquartiles when considering international projects. As a result, the company is transformed into a manufacturer with a reduced cost price. Oleg Novachuk, who holds the post of chairman of the board, commented on the event. According to him, KAZ Minerals Group is pleased to present its achievements in the extraction of first copper . The production of cathode copper from the Aktogay oxidized raw materials indicates the progress of the project. It is important for a company planning to further develop its potential. The Bozshakol project is implemented in accordance with the schedule. In the first quarter of 2016, it is planned to start the production of copper concentrate. In 2017, the enrichment plant that processes the Aktogay sulphide raw materials will be launched.
In mid-November, KAZ Minerals reached an agreement with Non Ferrous China. It is this company that is the main contractor. She is responsible for the construction work. The agreement envisages a deferral of the payment of 300 million USD within the framework of the Aktogay project.
View all news
Our consultant will save your time!

Alexey
sales department
+38 (093) 727-19-11