News
29 December 2015
Producers of the PRC reduce the production of copper and nickel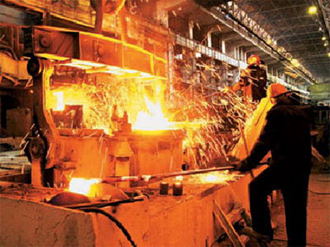 In China, manufacturers are reducing the production of copper . Vihchislelidery sector of the "Tongling Nonferrous Metals Group" and "Jiangxi Copper Company Ltd." The coming reduction exceeds the volumes stipulated earlier. In 2016, additional volumes to decrease may cross the border of 0.35 million tons. Such data was provided by ChinarRO. The introduction of additional restrictions is designed to contain the value of metals, which continues to decline.
Since the beginning of this year, the cost of copper has fallen by at least 30%. December 22 at the London Stock Exchange, the cost of 1 ton was 4694 USD with a 3-month supply. During the 8-month period, China's metallurgical companies have increased the production of non-ferrous metals. We are talking about 10 base metals, their smelting reached 33.87 million tons. This indicator in the annual equivalent is higher by 9.4%. However, the profit for the same period from the sale of non-ferrous metals decreased by 4.2%. On an annual basis, the decline was about 101.6 billion yuan. The volume of copper smelted in China for 8 months amounted to 5.07 million tons. This result is higher than the indicator of last year's same period by 8.2%.
Also, Chinese metallurgists plan to reduce the production of cast iron nickel and refined nickel . In December, 8 leading companies planned to reduce volumes by 15,000 tons. The total capacity of these companies is 400,000 tons of nickel per year. Among them, the state corporation Jinchuan Group Co Ltd. It is expected that in the next year the reduction in output will be at least 20% of the results of 2015. As reported by the company Reuters, volumes can be re-revised downward. This is possible if the cost of nickel in the domestic market does not exceed 70,000 yuan / ton.
The intentions of manufacturers to reduce volumes were published after the Shanghai meeting. Correction of companies' actions was carried out against the background of widespread glut of markets. Considered the decline in value and demand. Prices for LME reached a minimum mark for more than 10 years. The companies that manufacture zinc products are also planning to cut production. The planned reduction of production volumes at the level of 500,000 tons is planned.
Copper, nickel, zinc in the current year fell sharply in value. Which is not surprising, given the falling demand in China. China is going through hard times, which is reflected in the non-ferrous metals market. Since the beginning of 2015, the cost of copper has fallen by 28%. Nickel has lost 44% in value. Zinc fell by 31%.
View all news
Our consultant will save your time!

Nicholas
sales department
+38 (050) 369-66-30