News
18 January 2016
MMK took the leading position among manufacturers of sheet products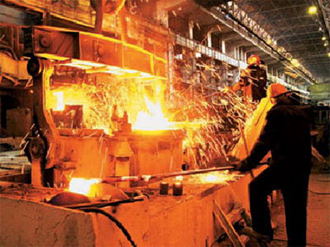 As a result of the second half of 2015, the Magnitogorsk Iron and Steel Works takes a leading position. The activity of manufacturers of Russian flat products was considered. MMK is also the leader among companies that produce painted metal. The rating was calculated by the magazine "Metal supply and sales". Such significant indicators were achieved on the basis of MMK's implementation of the new strategy. The program provides for the development of industries that produce high-margin goods with high added value .
Over the past 10 years, MMK has significantly renewed the capacity for flat-rolled products. Modernization was achieved by putting modern complexes into operation. Among them, the company for the production of thick plates - stan5000. Also a new complex for the production of cold rolling - stan2000. The program included the construction of high-performance aggregates of hot continuous galvanizing in the amount of 2 units. Also, aggregates of polymer coatings and other capacities, oriented to the production of galvanized steel, were built. The strategy was developed until 2025. It includes the reconstruction of a hot rolling mill. The work is scheduled for 2016-2018. The launch of the hot- dip galvanizing line is planned . Its annual production capacity is 450,000 tons. The beginning of operation in accordance with the plans will be in 2017. Among the manufacturers of metalware, MMK-Metiz holds the leading position, having entered the top three.
At the same time, according to some sources, the Magnitogorsk Iron and Steel Works is going to raise prices. Perhaps, the revision of the cost of products will take place from February 1. The new prices will affect the goods supplied to the domestic market. The increase in value will be around 5%. Such changes are caused by differences in the USD / RUB exchange rate. Accordingly, the level of costs for purchased raw materials, materials. Another influencing factor is the growing interest in export sales.
Only in December MMK sent to the Ural Pipe Mill a two-million ton of rolled metal. In 2015, the volume of products supplied to this enterprise reached 255,000 tons. MMK supplies the Ural plant with most of its products. The assortment includes hot-rolled, cold-rolled and long products. Also these are products with polymer coating.
View all news
Our consultant will save your time!

Vitaliy
sales department
+38 (095) 209-60-73