News
6 January 2016
EU-28 countries reduce steel production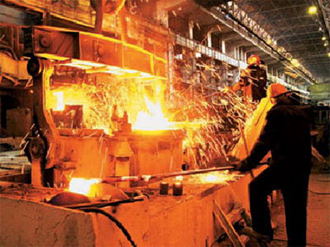 The World Steel Manufacturers Association has published new data on steel. According to them, the output of metal in November for the EU-28 countries fell by 7.5%. Calculations are made in annual equivalent. The output of steel in the region in November was 13.160 million tons. This figure is almost 3.8% less than the result of October. The greatest decline was observed in the UK.

Germany produced the largest volume of steel in November in the region. 3.482 million tons of metal were produced. However, compared to November 2014, this indicator is lower by 3.1%. Croatia is the leader in annual production of metal. The melting of crude steel increased by 5,000 tons relative to October 2014. During this period, production in the country was at zero. However, compared with the output of other countries, the November 2015 indicator is the lowest.
On an annual basis, steel output increased in Poland, Croatia, Greece, Italy and Finland. In the UK, in November, the greatest decline in the production of crude steel was observed. Relative to the same period last year, the decline was 32.6%. In general, in January-November 2015 compared to 2014, the UK produced 10.179 million tons of steel. The decrease in production was 9.6%. Sweden produced 4,038,000 tonnes (-2.9%), Slovakia produced 4,303 thousand tonnes (+ 0.5%). The figures of Austria were 7,035 thousand tons (-3.2%), Belgium - 6,524 thousand tons (-3.4%). France smelted 14,007 thousand tons (-6.8%), Germany 39691 thousand tons (+ 0.01%). Italy produced 20510 thousand tons (-7.8%), Spain 13.821 million tons (+ 3.7%).
The global cost of steel, meanwhile, continues to experience pressure. What is not surprising, given the low demand and high volumes of reserves. North America saw a decline in value in December. The main factor was the low demand of the domestic market. A strong dollar, however, hindered exports. Consumers continue to postpone the purchase of goods. However, a change in the situation is possible after the holidays.

In China, spot prices fell to the lowest level. Such a fall is justified by the implementation by local producers of surpluses at a reduced cost . Given the decline in domestic demand, China continues to export at record low prices. As a result, Taiwanese and South Korean manufacturers lowered the internal values ​​of implementations. The cost of the American flat rolled, it seems, is already at the minimum mark. In the first quarter, American manufacturers intend to increase the cost of production. At the same time, it remains unclear how the market will react to this step.
View all news
Our consultant will save your time!

Nicholas
sales department
+38 (050) 369-66-30