News
4 January 2016
In 2015, the output of non-ferrous metals decreased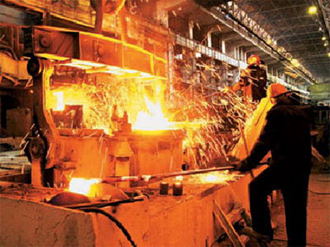 The Ministry of Economic Development of Russia published materials on the production of non-ferrous metals. In accordance with them for the 11 months of 2015, the production index reached 92.3%. Comparison of the time of production of non-ferrous metals was conducted with the same period last year. In November 2015 compared to the November indicators of 2014 there was a decrease. The production index reached 97.2%. The fall is observed on the basis of a decline in the production of high technological readiness goods. At the same time, the domestic market is considered.
The production of primary aluminum in January-November reached 96.2% compared to 2014. The November index in 2015 showed 93.8% against November 2014. The output of aluminum alloys for 11 months of 2015 relative to 2014 reached 111%. November indicators of 2015 compared to November 2014 amounted to 119.5%.
The refining of copper refined for January-November 2015 was 98.8% compared to 2014. If we consider the indicators of November 2014 and 2015, the reduction was 94%. The output of crude nickel for the 11-month period of 2015 was 96.9% compared to 2014. When comparing the results of November 2014 and 2015, the reduction was 97.2%. Decrease in output in relation to 2014 was observed against the background of cuts in tolling operations. There are low-profit operations on the Kola Peninsula. At the same time, the volume of exported products is decreasing.
As early as January 2015, the global value of non-ferrous metals was falling. Influencing factors was the crisis in the world economy and economy of the PRC. It should also take into account the strengthening of the USD and the fall in the cost of oil. And until August 2015, no special changes were noticed. In September, prices went up, having managed to break the trend. However, October and November did not please, on the contrary, the cost of metals fell again. In particular, a ton of primary aluminum reached a mark of 1588.8 USD / ton in September. In October, the price was 1524 USD / ton. In November, the price reached the level of 1465.6 USD / ton. The decrease in the cost of aluminum in November was 4.8%. Copper fell by 7.9%, the price of nickel fell by 10.8%.
By setting prices, Russian producers are guided by the global cost of metal. As a basis, the prices of the London exchange are accepted, adjusted for the RUB exchange rate. As a result, the increase in November of the internal cost of non-ferrous metals was 96.1% compared to October.
View all news
Our consultant will save your time!

Alexey
sales department
+38 (093) 727-19-11