News
11 January 2016
Zaporozhye plant increased production of sponge titanium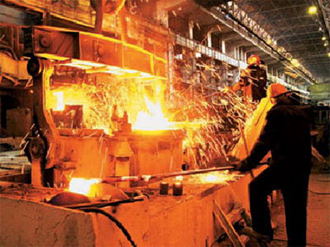 Zaporizhzhya Titanium Magnesium Plant improved its performance for the 11-month period of 2015. According to the data obtained, the production of sponge titanium increased by 12.2%. Its volume reached 7005 tons in comparison with the previous 6244 tons. The production of titanium commercial slag decreased by 35.1%. Its volume for 11 months was 10383 tons. The previous figure was 16,000 tons. The data were published in the press release of the plant. Vladimir Sivak, director of the titanium-magnesium plant, reported on the increase in the production of basic products. The combine focuses its efforts on the production of sponge titanium .
For the monthly period, the net income received from the sale of products reached 929 million hryvnia. This result is 11.4% higher than the same period of 2014. In monetary terms, the volume of 11-month output increased by 2.7% compared to the results of 2014. In 2014, the figures were 811.5 million hryvnia. In 2015, the result reached 833 million hryvnia. According to the director of the plant, the decreased production of titanium slag was planned. In the first half of 2015, the ore-thermal furnace was overhauled. This is one of three aggregates that smelt commercial slag. A number of capital repairs were also made, the cost of which amounted to 34.3 million hryvnia. The volume of taxes and fees paid by the plant to the budget has reached 273.6 million hryvnia.
In late December, the design of new industrial sites for the Zaporozhye Combine began. Their design is the Institute of Mining and Chemical Industry. The cost of design and survey processes under the agreement amounted to 33 million hryvnia. It is planned to develop several directions simultaneously. The reconstruction of the sponge titanium production site will be carried out. Also, the reconstruction will affect the area of ​​magnesium electrolysis. The block knockout section is also reconstructed in the shop for the production of titanium sponge.
Design has already begun. The management of the plant hopes that it will be completed on schedule. The speed of implementation of projects will affect the plant's position in the global aerospace market. The work being done is part of one program. It provides for the reconstruction of the main technological redistribution. It is about the production of titanium sponge and magnesium-reducing agent, used to produce a sponge.
View all news
Our consultant will save your time!

Nicholas
sales department
+38 (050) 369-66-30