News
8 February 2016
Association "Spetsstal" estimated Russian exports in 2015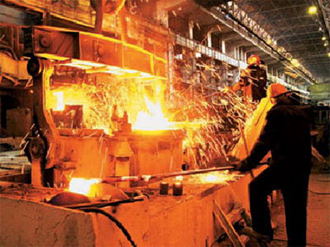 Association "Specstal" gave an assessment of Russian exports of stainless steel in 2015. According to expert data, exports of the main products reached 5,041 tons. Relative to the year 2014, the decrease in indicators is noticeably at 43.6%. Relative to 2013, exports have worsened by 77.6%. If we consider the value of exports, then in 2015 it decreased by 23.4%. Accordingly, the figures reached 54.92 million USD. Basically, the export was represented by flat rolled products. In total, its share reached 34.6%. Seamless pipes accounted for 28.9%. The amount of long products reached 21.3%. If we compare the figures with 2014, the volume of exports of stainless flat rolled products decreased by 5.1%. As a result, the result reached 1,745 tons. The reduction of high- quality stainless steel was 74.4% to 1076 tons. Export of seamless pipes fell by 13.3% to 1,455 tons.
Stainless steel products from Russian companies were supplied to 50 world countries. For comparison - in 2014 the shipments were sent to 42 countries. Ukraine received 37.4% of the total. In 2014, this figure was 56.9%. 11.5% were sent to Lithuania, 4.9% to Italy. In China and Uzbekistan, exports amounted to 4.2%. Of the importing leaders, only Ukraine has reduced the level of purchases to the level of 1887 tons. Thus, the indicators decreased by 62.9%. Association "Spetsstal" noted the impact of the disruption of cooperation ties. The loss of Ukrainian consumers affected the export volumes of the main types of stainless products. Other countries, on the contrary, increased the volume of imports. Consumption of Lithuania increased by 355.1%, which was 578 tons. Italy increased 303.4% to 246 tons. Growth from the PRC reached 161% to 214 tons. Deliveries to Uzbekistan increased by 5% to 212 tons.
MEPS representatives reviewed the production of stainless steel in 2015. According to their estimates, the output reached a little less than 41.5 million tons. This figure is approximately 0.5% lower than the result of 2014. Experts believe that in 2016, the increase in the output of stainless steel will be 2%. The level of global production will reach 42.3 million tons. Growth from the PRC will reach 1.7%. Japan will increase output by more than 5%. Korean manufacturers will not show significant changes. Taiwan to increase production by 2.7%.
View all news
Our consultant will save your time!

Nicholas
sales department
+38 (050) 369-66-30