News
17 February 2016
Kalinganagar metallurgical combine will launch new workshops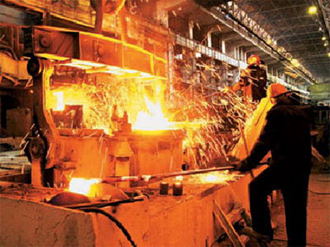 Metallurgical company "TataSteel" continues construction of the Kalinganagar plant in India. Before March, the launch of a blast furnace and steelmaking shop is planned. The start of production is scheduled for 2017. Such information was provided by Metallservice. The project annual production capacity of the plant is 6 million tons of steel. The first stage is expected to provide production of 3 million tons of products annually. The second phase will be put into operation in 2019. The company realizes this project within the framework of the state program "Make in India". For the last hundred years Kalinganagar combine represents the first construction outside of Jamshedpur. To date, a coke oven, hot rolling mill has been put into operation. They were put into operation in autumn 2015. In October-December last year, the company significantly increased the volume of production and sales of products. On an annualized basis, output of finished steel increased by 13.1% to 2.51 million tons. The number of sales increased by 10.3% to 2.35 million tons.
At the same time, Reuters data points to a decrease in the volume of steel imports. In January, indicators fell for the third consecutive month. Which is not surprising, given the government's fees. Anti-dumping measures have reduced imported quantities of inexpensive steel products to India. Since September of last year, certain duties have been imposed on certain types of products. In February 2016, talks began about increasing the size of taxes to 35%. At the beginning of the month, the government set a minimum cost for imports. The period of validity of the measure taken is six months. In January, the volume of steel supplied to the country reached 916,000 tons. This result is 8.7% lower than the December figures of 2015. At the same time, for the ten-month period of the financial year, the volume of imported steel increased. In annual terms, growth was 24%.
Indian producers are able to produce about 3.5 million tons of stainless steel every year. At the same time, due to the growth in import volumes, the level of loading of domestic capacities is markedly reduced. It shows about 50%. The volume of imports of stainless products in the financial year 2014-2015 reached a mark of 550,000 tons. The main supplier of steel products - including stainless steel - is China.
View all news
Our consultant will save your time!

Vitaliy
sales department
+38 (095) 209-60-73