News
28 March 2016
In 2015, the profit of Norilsk Nickel declined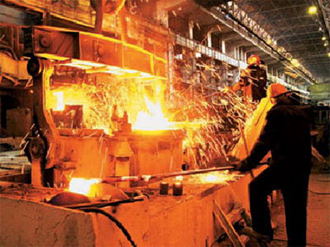 In 2015, Norilsk Nickel observed a decrease in profit before payment of compulsory taxes. The recession was 24%. The results were affected by the decline in the value of metals on a global scale. However, the profitability of the Russian company increased against the background of a weak national currency. Representatives of Norilsk Nickel are counting on maintaining demand in 2016 for metal. The company also hopes for nickel deficiency on a global scale. They also say that there are no prerequisites for a further fall in the cost of metal.
"Norilsk Nickel" reported a decrease in income before mandatory payments. It is at the level of 4.3 billion USD. This indicator corresponds to previous forecasts made by leading analysts. Consolidated revenue of the company decreased by 28%, amounting to 8.5 billion USD. The result of the reduction was the fall in the cost of metals and other factors. Vladimir Potanin said that the world price decrease could not but affect the company's activities. However, the negative effect was significantly reduced due to the dynamics of the RUB exchange rate. The positive factors were the decrease in expenses at the national enterprises. Also, compensation was due to the exit of Norilsk Nickel from assets abroad.
The free financial flow of the Russian company fell by 49%, reaching $ 2.4 billion. Net debt of Norilsk Nickel increased by 19% to the level of 4.212 billion USD. The ratio of net debt to EBITDA in 2015 was 1x relative to 0.6x in 2014. As for capital investments, in 2015 the indicator increased by 27%. The costs amounted to 1.7 billion USD. The growth of investments was noted against the backdrop of the accelerated construction of the facilities of the "Rocky". Reconstruction processes at the Talnakh concentrator were also continued. Investments were directed to the implementation of the Bystrinsky project.
Representatives of Norilsk Nickel estimate costs in 2016 at the level of about 2 billion USD. This amount includes the costs of development of the Bystrinsky deposit. They will amount to 0.5 billion USD. In 2015, this project of the Russian company managed to attract investors from China. They acquired 13.3% of the shares. In 2015, there was a sharp decline in the cost of industrial metals. Which is not surprising, given the decline in demand from the PRC. The influence was also exerted by overproduction and strengthening of the dollar. Correspondingly, investments in the metal sector rose for investors outside the United States.
View all news
Our consultant will save your time!

Nicholas
sales department
+38 (050) 369-66-30