News
18 April 2016
Electrozinc continues to improve equipment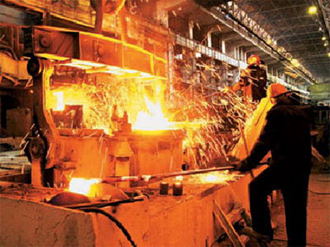 In 2016, Electrozinc, which is an enterprise of UMMC, will continue to improve its equipment. An additional installation is planned for the electrolysis of four cascades of baths. The installation of new equipment corresponds to the company's plans. According to the schedule in 2016, the volume of zinc production will increase to 63,000 tons. Growth will be observed against the background of increased supplies of raw materials from UMMC enterprises. To date, the installation of cascades 11 and 12 has been started. Each of them is designed for 27 baths. Simultaneously with the installation, electrodes are manufactured. To complete the baths, 1728 anodes are needed, the same number of cathodes.
The daily productivity of each cascade will be 25 tons of cathode zinc . The beginning of operation of these cascades should begin on June 1. On the same date, the installation of the remaining cascades will be necessary. In their work, they are expected to start on August 1. To date, the workshop has 508 baths. After all cascades are installed, the number will be 616 pieces.
Electrolyte shop is the final stage of the technological process of zinc production. Accordingly, the production of the workshop is all factory products. One of the last stages of zinc treatment is its precipitation in the baths. Then follows the remelting of cathode zinc . During electrolysis, the purified zinc electrolyte is fed continuously into the electrolytic bath. It has cathodes made of aluminum and lead anodes. The elements are alloyed with silver. A direct current is fed through the baths. At the same time, cathodes are precipitated by positive cations. A cathode zinc precipitate is formed. Zinc expansion lasts for 48 hours. Next, the cathodes are removed to remove the product. The next stage is the remelting of the zinc sediment. From it, cathode blocks are formed, pigs in accordance with GOST. Next comes the packaging and shipping of products.
The new equipment is installed in accordance with the program developed in 2015. We are talking about processing additional volumes of zinc concentrate. A number of works under the program were carried out in 2015. In September and October, the processes were carried out during the stopover. In this period, the cascades 9, 10 were put into operation. To complete them, it was required to install 1800 tons of anodes and the same number of cathodes.
The cost of additional cascades is about 56 million RUB. The costs for aluminum, lead and other materials are included.
View all news
Our consultant will save your time!

Vitaliy
sales department
+38 (095) 209-60-73