News
25 April 2016
Severstal releases results for the first quarter of 2016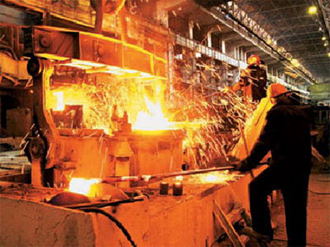 Severstal has published results for the quarter of this year. In accordance with them, the level of cast iron production remained practically unchanged. The result was considered relative to the previous quarter. The volume of metal production reached 2.35 million tons. In the fourth quarter of 2015, the output was 2.34 million tons. Steel production increased by 6% compared to the fourth quarter of 2015. The indicators were 2.91 million tons. Improvement was observed against the background of the completion of repair processes. Also on the indicators positively influenced the increase in the load of high-quality production of Balakovo.

The fixed sales of steel goods fell by 7% compared to the fourth quarter of 2015. The volume reached 2.45 million tons, while the previous figures were 2.62 million tons. The decrease in the results is due to the seasonal decline in metal consumption in the domestic market. Against the same background, the availability of goods with high added value , sold on the domestic market, decreased.
The volume of coking coal concentrate production produced at Vorkutaugol was reduced. In the first quarter, the indicators were negatively affected by the tragic events that occurred at the "Northern" mine. The investigative authorities continue to conduct an investigation. However, the Government Commission has already announced preliminary results. In accordance with them, the main influencing factors were geological moments. They affected the shift of rocks and the subsequent explosion of methane. To date, mining operations have been suspended. The remaining mines, along with the coal mine, function as before. Last year, the Severnoye mine produced about 1.5 million tons of coking coal concentrate. This figure is about 26% of the volume produced in 2014. During this period, the volume of production was 5.7 million tons.
By the end of last year, the cost of steel has reached the bottom of the last decade. There is no doubt about the further development of China's economy. There is also no increase in the consumption of steel on a global scale. However, the situation changed somewhat in March this year. For a month, the export value of hot-rolled sheet products increased by 40%. The cost of products in the domestic market in dollar terms is also increasing. The main reason is the strengthening of RUB. The internal market for companies remains the main one. This is not surprising, given the high profitability of supplies.
View all news
Our consultant will save your time!

Nicholas
sales department
+38 (050) 369-66-30