News
12 April 2016
SUMZ continues installation of new equipment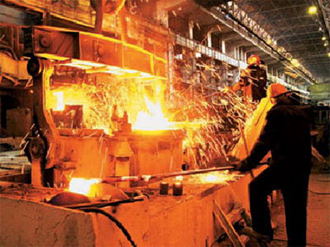 SUMZ is an enterprise of the UMMC metallurgical complex. The enterprise continues to install new equipment. In April, a foundry crane was put into operation. It is mounted in the copper smelting shop, converter compartment. The lifting capacity of the crane is 20/80/20 tons. Along with the main rise there are two auxiliary ones. The crane was produced by JSC Naberezhnochelninsky Crane Plant. The manufacturer is located in the Republic of Tatarstan. The new equipment replaced the technology that had worked out its resource. The cost of the crane was about 42 million RUB.
The weight of the large-sized crane reaches 105 tons, the span is 22 meters. Installation is made in the converter compartment. During the installation, the work was done by means of two mobile cranes. Their carrying capacity was 80 and 300 tons. Also, the work involved a bridge crane installed in the copper smelting shop. To date, the new equipment carried out commissioning. Also, a registration was made in Rostekhnadzor. The technics has completely passed technical examination.
The lifting capacity of the crane was checked by static tests. The initial weight of the test cargo was 100 tons. This mass is 25% higher than the nominal capacity. The indicated weight was held for 10 minutes. During this time interval, the functionality of the brakes was checked. After lowering the load, the specialists checked the metal structures of the equipment. The presence or absence of cracks and deformation of the metal was evaluated. Also considered were joints - bolted, welding, and block suspensions. Security devices and other mechanisms were checked. In the process of testing, the weight of 88 tons was lifted and lowered three times. The specified weight is above the nominal by 10%. Lifting, lowering was performed while moving the crane. After dynamic tests, the state of the chassis, steel structures, crane trucks was evaluated.
After the tests, the data were analyzed. As a result, the commission came to the conclusion of full compliance of technology with federal norms. Also, the crane meets the rules of industrial safety. The main purpose of the new crane is transportation of slag and melt. Accordingly, timely replacement of this equipment is very important for the production process.
View all news
Our consultant will save your time!

Nicholas
sales department
+38 (050) 369-66-30