News
17 April 2016
In 2015, the production of stainless steel fell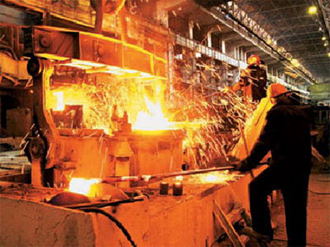 The International Stainless Steel Forum published data on stainless steel for 2015. In accordance with them, global stainless steel output fell by 0.3% compared to 2014. Production volumes reached 41.55 million tons. In 2014, the figures were 41.69 million tons. Since 2009, the decline has been recorded for the first time. The main reason for the deterioration in performance is the slowdown in the economic development of the PRC. There is a drop in the volume of stainless steel production in the country. Earlier, China demonstrated outstanding growth rates. For 14 years, the production of stainless steel in the country has increased more than 30 times. However, in 2015 there was a decrease of 0.6%. The level reached 21.56 million tons, whereas in 2014 the figures were 21.69 million tons. An important factor is not only a decline in the pace of development of China's industry. Experts believe that the reason is also in the narrowing of exports. Chinese stainless steel for today is actively levied with anti-dumping and countervailing taxes. Active measures against Chinese exports are widely used in a number of countries. Among them are India and the EU states.
However, in some countries, in 2015, there was an increase in production. Mostly these are the countries of Asia with the exception of the PRC. The total volume of stainless steel smelting in them was 9.46 million tons. The indicator exceeds the results of 2014 by 1.4%. In Japan and Korea, there was a decline in output. The fall was offset by an increase in smelting volumes in India and the South-East Asian countries. South African companies, together with European companies, reduced output by 0.7%. Volumes reached 7.52 million tons. Companies in South and North America cut production by 2.3%. Production volumes were 2.75 million tons. The most significant decline was observed in Eastern Europe and CIS countries. According to the ISSF data, in 2015 the production volumes were 259,000 tons of stainless steel . Relative to 2014, the fall was 6.3%.
According to the statistics, in March of this year, China poured 70.65 million tons of steel. This indicator exceeds the level of March 2015 by 2.9%. This is the second most significant result after May 2014. In general, in January-March 2016, China's metallurgical companies produced 192 million tons of steel. This result is lower than the result of 2015. The reason is a decrease in the indicators for January and February.
View all news
Our consultant will save your time!

Vitaliy
sales department
+38 (095) 209-60-73