News
21 July 2016
MMK took first place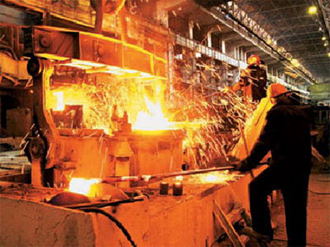 Magnitogorsk Metallurgical Combine is the leader among the producers of painted and galvanized steel in Russia. The first place in the coated products sector is the result of the combine's efforts. They are aimed at developing production processes for the production of metal products with high added value . The plant actively introduces high-performance capacities. They are focused on the production of galvanized metal and metal products with polymer coatings. In 2002 and 2008, continuous hot galvanizing units were installed. Their production capacity was 500,000 and 450,000 tons. In 2004 and 2009, the construction of aggregates for the application of polymer coatings was carried out. The productivity was 200,000 tons of products per year.
In 2012, to these capacities, the combine added the capacity of the second stage for cold rolling. The composition includes ANGTS, its annual production reaches 450,000 tons. Also in the list of achievements is a combined unit of hot continuous galvanizing and annealing. Annual capacity of the unit is 250,000 tons of galvanized steel. Today, the construction of the next hot continuous galvanizing line continues. Its annual capacity is 450,000 tons. The launch of the line according to the plan is scheduled for 2017.
On July 15, the Magnitogorsk Iron and Steel Works marked an important event. Five years have passed since the start of the first stage of the mill 2000, which is a complex of cold rolling. The commissioning of this unit represents an important stage in the implementation of the technical re-equipment project. The main goal of the complex is the development of high-quality galvanized, cold-rolled products. It is designed for interior, exterior automotive parts. This product is also used by manufacturers of the construction sector and household appliances.
As part of the process equipment, a continuous pickling line. It is combined with a 5-ticlet cold-rolling mill. Its annual production capacity is 210,000 tons. The first stage was commissioned in July in 2011. In January of last year the mill of cold rolling reached more than 5 million tons of production. To date, the production of the mill 2000 is in demand in many sectors. Galvanized and cold-rolled sheet is used by domestic automakers. Foreign companies are equally active in purchasing Magnitogorsk plant products.
View all news
Our consultant will save your time!

Vitaliy
sales department
+38 (095) 209-60-73