News
18 July 2016
Novolipetsky Combine is ready for the meeting of the Day of Metallurgists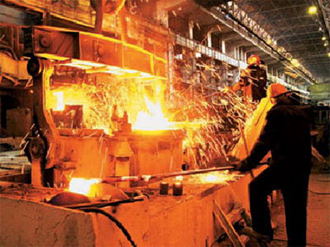 The Novolipetsk Metallurgical Combine, which is part of NLMK, is preparing for Metallurgist Day. Moreover, the professional holiday coincides with the Day of the City. Therefore, the plant management plans to celebrate two holidays at the same time. To please the residents of Lipetsk and its guests is the organization of mass events.
Why did both holidays coincide? Simply Lipetsk since its inception is a city of metallurgists. And the choice of date is not accidental. Alexander Sokolov, NLMK's Vice President for Social Affairs, shared the company's position. Residents of Lipetsk - people are hardworking, talented. Many have tied their own destiny with the Novolipetsk Metallurgical Combine. It is he who is the main enterprise of the regional center. Festive events organized by NLMK management are a gift not only to metallurgists. This is a gift to all the citizens and guests.
Solemn events began on July 14. On this day in the Palace of Culture a concert for veterans of production was held. Honored workers received congratulations from the plant's management, from the city authorities. Residents were also pleased with the concerts that took place on the streets of Lipetsk. From July 15, an exhibition of paintings of veterans of NLMK. It is held in the regional exhibition hall of Lipetsk. The exposition includes over 30 works - landscapes, portraits and still lifes.
All those who wished on July 15 could get on the excursion that took place on the territory of Novolipetsk Combine. Residents of the city saw rolling and blast-furnace production. Such excursions are necessary. After all, the Novolipetsky Combine is the main production site of NLMK. NLMK Group, in turn, is the largest Russian producer of steel products and steel. On a global scale, this is one of the most effective companies. Its assets are located in Russia, the United States, the EU.
Volumes of production of steel Novolipetsk combine reach 18% of the total Russian production of metal. In the total output of the NLMK Group, 80% of steel is accounted for by the Lipetsk site. High-quality NLMK products are used in various production sectors. This is the construction and engineering industry. The products are used for the production of LDPE and power equipment. In 2015, the production of steel Novolipetsk combine amounted to 12.9 million tons. Since 1934, this is the maximum result. Record results were achieved at all the redistribution of the plant.
View all news
Our consultant will save your time!

Nicholas
sales department
+38 (050) 369-66-30