News
5 July 2016
Severstal invests in the development of the Cherepovets Combine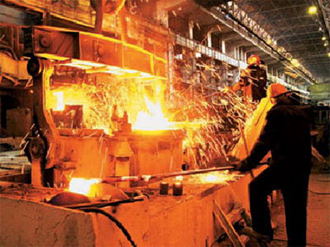 Severstal expects to continue investing in the Cherepovets Metallurgical Combine. In 2016, investments are planned at the level of 7 billion RUB in the expansion of flat-rolled products. Most of the funds will be spent on the construction of a metal coating department. For the construction of shop number 3, the costs will be about 5.2 billion RUB. The installation of a continuous hot galvanizing unit is planned. Its annual production capacity is 400,000 tons of products. It is also planned to build a line of polymer coatings products. The annual capacity of the line reaches 200,000 tons. To date, the project is being actively implemented. In general, the cost of building the CPM-3 reaches over 7 billion rubles. The completion of construction is expected in 2017.
It is expected that in 2016 a 4-stand cold rolling mill will be reconstructed. Investments at this stage will amount to about 590 million RUB. The total cost of the project is over 3 billion rubles. In May, the project reached the final stage, the operation of the mill began. Thanks to the reconstruction, an increase in the volume of cold-rolled sheet production is observed. The growth amounted to 200,000 tons / year, which is equivalent to 20% of the annual volume. There is an expansion of the assortment and an increase in its quality.
Vadim Germanov, general director of the division, expressed his opinion on investment projects. According to him, all investments in the expansion of flat-rolled products meet the established schedule. In 2016, the Severstal Russian Steel division is implementing over 500 events. Investments are expected at the level of 21.3 billion rubles.
The company does not forget about anti-dumping duties. Severstal recently appealed to the EU, calling for the abolition of the anti-dumping duty. This refers to the tax on Russian cold-rolled steel. The inexpediency of input is due to violations made during the investigation. A similar request was made on June 17 for consultations in Brussels. According to representatives of Severstal and NLMK, the rights of metallurgists were violated. As to the circumstances of the case, they were not adequately addressed. These same requirements were expressed in the letter. It was sent to the EC by the law firm Dentons on June 15. Russian companies are talking about incorrect calculations. The EC refused to use data on costs and costs, provided by metallurgists.
View all news
Our consultant will save your time!

Nicholas
sales department
+38 (050) 369-66-30