News
13 July 2016
Svyatogor proceeded to the next stage of adjustment of electrostatic precipitators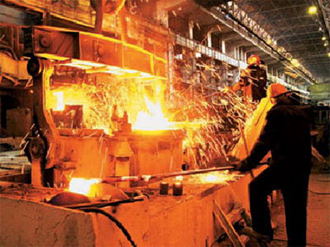 Svyatogor is an enterprise of the UMMC metallurgical complex. In the metallurgical shop of the enterprise, the adjustment of horizontal dry electrostatic precipitators continues. The other day specialists have started the commissioning and commissioning of "cold" works. The introduction and adjustment of units is the next stage in the reconstruction of production. A large-scale renovation of the chemical-metallurgical industry gives a lot of advantages. Additional extraction of metals from dust is provided. At the same time, emissions of harmful substances into the atmosphere are significantly reduced.
The commissioning of these units is a very important aspect of reconstruction. It stabilizes the activity of the II department of sulfuric acid production. Now the transportation of converter gases into it is much easier. At the same time, restrictions and losses are excluded. The main function of the electrostatic precipitator is to clean the gas from dust. The process occurs under the influence of electrical forces. Particles get an electric charge. The electric field acts on them, depositing on the electrodes. Further, the particles are shaken to the storage hoppers. The next stage is sending them for processing to UMMC's production facilities. The capacity of filters reaches 120,000 m3 / h. The temperature is from 350 to 4000 0 C. The degree of purification reaches at least 99%.
The equipment is equipped with automation and control system. With their help, the temperature of electrostatic precipitators, pressure, volume of incoming gas and others are controlled. Start-up and commissioning works will give an opportunity to check the equipment in the case. At the same time, at this stage the gases of metallurgical production are not connected. It is necessary to pre-test systems in the test mode. After the "cold" phase, start-up procedures will be conducted. This work will take about a month. Then the equipment can be put into operation. The cost of equipment, its installation, commissioning will amount to more than 300 million RUB.
Svyatogor is actively engaged in the conversion and repair of production. In early February, the reflux furnace No. 1 was put into operation. Before that, it underwent major overhaul. The furnace is one of the main production units. Its main function is the smelting of the burned batch. In the process, copper is converted into matte. The bulk of iron is transferred to the slag. Repair continued throughout the year. Its cost was 75 million RUB.
View all news
Our consultant will save your time!

Alexander
sales department
+38 (063) 073-44-92