News
7 July 2016
The Novolipetsk Metallurgical Combine has an anniversary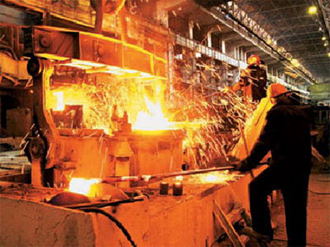 At the end of June, the Novolipetsk Iron and Steel Works, which is the main enterprise of the NLMK Group, celebrated its jubilee. Thirty years have passed since the start of the production of dynamo steel. The launch of the processes of development of dynamical electrical steel took place in 1986. The largest production in Europe produced annually 480,000 tons of products. Such volumes provided an opportunity for the full provision of steel to the enterprises of the country. The metal was used for the production of turbines, generators, various power stations, household and industrial electrical appliances. Since the beginning of operation, the shop has produced over 16 million tons of rolled metal.
Over the course of the work, the specialists succeeded in creating over 50 brands of dynamo steel. The development of new technologies allowed to increase the quality of products. Russian consumers were generously provided with new types of high-tech rolled products. Previously, similar products had to be purchased from foreign partners. Today, the Novolipetsky Combine is the owner of one of the most modern Russian production bases. The enterprise actively produces metal with high added value . Such growth was greatly facilitated by modernization of capacities. The growth projects were implemented in 2000-2012. The reconstruction allowed to expand the range of steel. Production volumes with coatings were increased. Such brands are widely used in the construction industry. It was possible to produce a technological chain, which allowed producing promising steel grades.
Last year, a line of new brands received gold at the Metal Expo 2015. Dynamic steel produced by new technologies has new technical properties. The use of this product increases the efficiency of electricity production by 15%. The efficiency of the functionality of electrical appliances increases by 10%. Supplies of Russian innovative products are produced not only on the domestic market. Foreign consumers willingly buy dynamo steel from Novolipetsk Combine. Among them are the producers of Sweden, France, Finland and other countries.
On June 27, 2016 the best innovators of the plant were awarded. Their development allows you to increase the quality of goods, reduce material and energy costs. Improvement of technological processes and improvement of other parameters allowed the company to save over 105 million RUB.
View all news
Our consultant will save your time!

Nicholas
sales department
+38 (050) 369-66-30