News
4 August 2016
Zinc is growing in price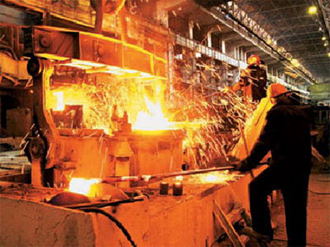 Today, zinc can be seen as a fast- growing metal in terms of value . Since early 2016, its price has increased by 40%. Investors demonstrate considerable interest in metal, fearing difficulties with supplies. Russian manufacturers are actively using the situation in their own interests. The production of zinc continues to increase. For the first half of the year, metal prices increased by 38%, amounting to 2116 USD per ton. For one June the price soared by 11%. Since July, the value of metal has continued to increase. Since the beginning of the month, the price has increased by 5%. At LMEmetall traded at 2223 USD / ton.
Among the reasons that affect the growth of metal prices - the closure of some mines that extract zinc . In 2015, production declined, given the fall in the cost of metal. Last year Australia stopped production at the Century field. The Irish mine Lisheen, one of the world's leading zinc factories, stopped. The cumulative productivity of these mines was 675,000 tons, reaching 5% of the world volume. Other manufacturers also had to reduce production volumes. For example, in October last year, Glencore reported a planned decrease in output. The fall was 500,000 tons - about 4% of the world's metal supplies.

Last year, 13,905 million tons of zinc were produced in the world. Since 2012, the production of metal has constantly increased. On average, the year-on-year increase was 2-3%. The driver of capacity expansion was the increase in steelmaking. In general, zinc is used in the industrial sector. It is designed for galvanizing cast iron, steel, helping to protect the metal from corrosion. For similar purposes, about 40% of global metal production is spent. Zinc is widely used in medicine, the production of alloys, and the production of tires.

The price of zinc is growing, investors are afraid of difficulties with the supply of metal. There are no significant new projects in zinc mining. Therefore, there is no possibility of replacing the stopped capacities. Accordingly, the cost of metal can continue its growth. It is assumed that the demand for metal will exceed supply. It will continue to increase this year. Consumption will increase by 3.3%, amounting to 14.37 million tons. The output of metal will increase only 1.8% to 13.8 million tonnes. After the surplus in 2015, the zinc market again expects a deficit.
View all news
Our consultant will save your time!

Nicholas
sales department
+38 (050) 369-66-30